Fans are an essential electrical home appliance that you cannot miss. Due to the problem of global warming, nowadays, one cannot imagine living without a fan. Moreover, fans of either kind are one of the most effective and cost-saving ways to get a cool breeze.
However, when discussing fans, the most basic picture that might come to mind is the ceiling fan we all have in our homes. However, apart from this, other types of fans are available in the market. Hence, to know more about the various types of fan, you need to follow this article.
What Are The Different Types of Fan?
Below are the most common types of fan available in the market for different uses and purposes.
1. Ceiling Fan
The ceiling fan is the most commonly used fan that we all have in our homes. They are the standard as well as the ultimate type of fan. The ceiling fan is also known as a mechanical fan powered using electricity and mounted on the ceiling of the room.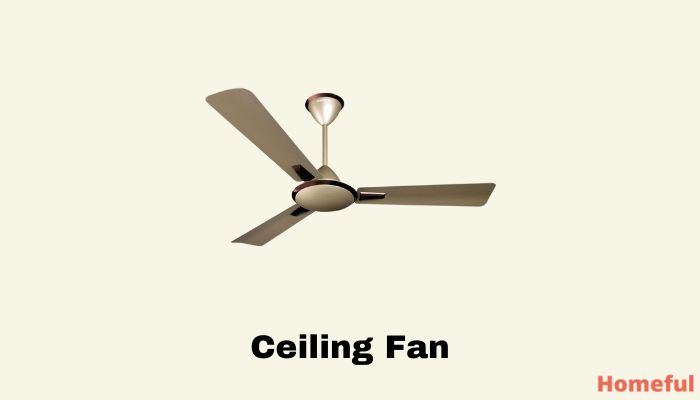 As this type of fan is usually suspended in the centre of the space in the air when they work, they distribute air throughout the room, ensuring that every corner of the room gets air.
Pros
Provides instant cooling
Helps to cool large areas
Do not require much energy like other types of fans
Cons
Installation is a tedious task
It is only limited to where it is installed
Produces some noise
Best for: Cooling a large area
2. Table Fan
Another popular type of fan you might have in your home is the table fan. It is the most preferred choice option for fans after the ceiling fan. They are widely popular for their compact size, capacity to provide higher airflow, and practical portability.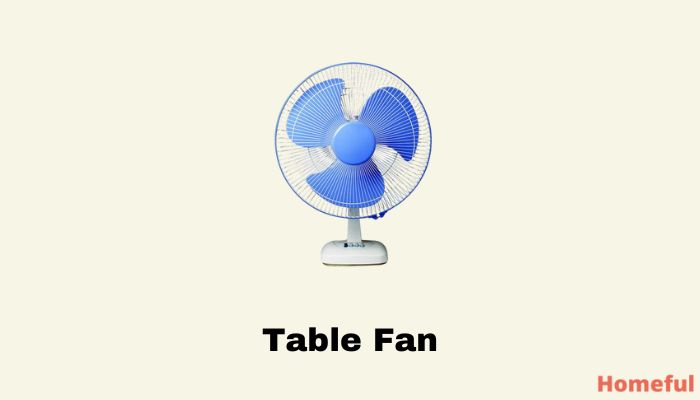 They are also powered by electricity and come with a motor unit which runs inside them. Table fans have a higher flexible usage than the other types of fans. You can conveniently use it anywhere without any hassle.
Some table fans also come with remote control options, making it convenient for you to control the speed and rotation of the fan from anywhere. They have the flexibility to rotate; thus, everyone can get air.
Pros
Highly durable
Has higher airflow
Comes in a compact size
Cons
Cannot provide air to a large room
Safety hazards for kids
Best for: Getting higher airflow
3. Tower Fan
As the name suggests, these fans are like a tower. They have a tall and narrow tower-like structure. They also have a sleek and compact design. Tower fans are considered to be one of the most popular cooling appliances.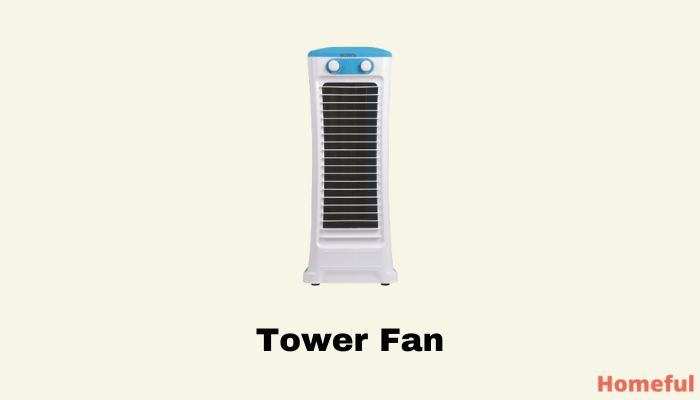 One of the most impressive features of the tower fans is that they come with in-built ionizers and a rotating base, which helps to purify the air in the room. They effectively cover large areas and tend to blow air at a 90-degree angle.
Tower fans have an inlet on either side, which enables them to pull air from outside. The cylindrical blades of this tower fan provide an ideal air throw, and they consume less power as they only circulate the air inside.
Pros
Covers a large area
Has a sleek and stylish design
Purifies the air in the room
Cons
Not much power
Less control over airflow
Produces little noise
Best for: If you have limited space but you require adequate air circulation
Suggested read – Tower Fan vs Air Cooler
4. Pedestal Fans
The pedestal fans come with a tall stand and are in high demand due to their powerful cooling abilities. They come with a detachable stand, facilitating easy height adjustment per the requirements and room size.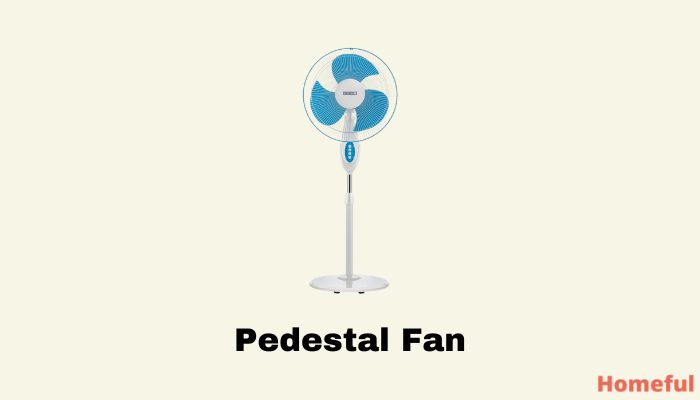 The pedestal fans have an in-built oscillation mechanism that ensures maximum air distribution. This type of fan is usually equipped with three to five blades. They are provided with a heavier desk that keeps the fan steady on the ground while rotating at its highest speed.
One of the significant benefits of the pedestal fans is their lightweight and ergonomic build, which makes the product highly portable. Some advanced pedestal fan models have several advanced features such as speed setting, timer, air filter, etc.
Pros
Economical price range
Portable
Cons
Not suitable for small-sized rooms
It circulates air only in one direction
Best for: The pedestal fan is best for those places where there is a space constraint
5. Wall Mount Fan
The wall mount fans are designed especially for small and compact rooms with limited floor space. It is mainly installed in small offices, warehouses, and auditoriums. As the name suggests, to install wall-mounted fans, it is essential to drill holes in the walls.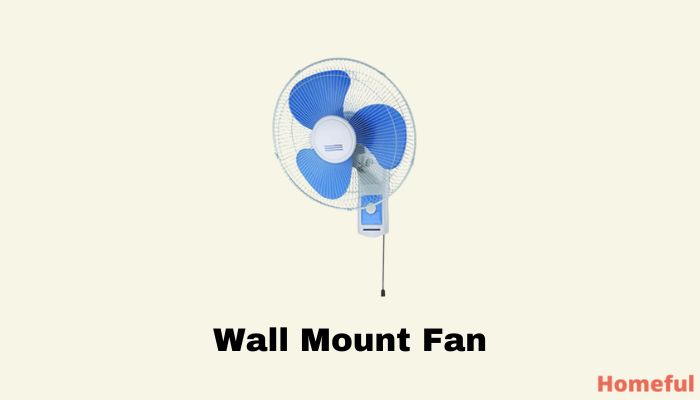 The wall mount fans are a great idea for space saving. They make way for instant evaporation, thereby aiding in uniform airflow. Most wall-mount fan models come with a remote, facilitating easy product control. This type of fan is equipped with a powerful motor, which accounts for the high efficiency of the fan.
Pros
Compact and ergonomic design
Facilitates floor space saving
Cons
Difficult to clean
Tacky maintenance
Best for: The wall mount fan is an ideal choice for low-ceiling rooms
6. Exhaust Fan
Also known as a propeller fan, the primary purpose of an exhaust fan is to remove the excess accumulated build-up. The exhaust fans are suitable for bathrooms, kitchens, loft areas, and basements. An exhaust fan helps remove excess moisture and humidity from the room.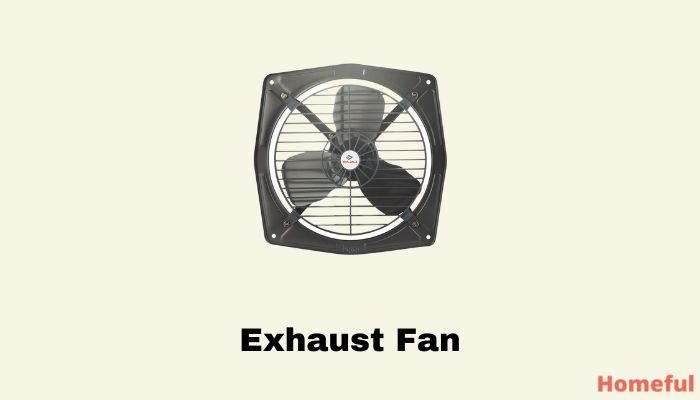 The exhaust fans come in a small and compact shape and can be easily installed in windows, wall-mounted areas, or ceilings. They are equipped with ultra-resilient blades and metallic bodies. The exhaust fans usually come in a square case or round case. One of the significant benefits of the exhaust fan is its easy and hassle-free installation.
Pros
Effectively eliminates bad smell
Reduces air contamination and removes air moisture
Cons
Low durability
Makes noise during operation
Best for: Bathrooms and kitchens
7. Bladeless Fans
Bladeless fans are the new and the latest addition to modern technology. As the name suggests, this type of fan is entirely bladeless. It comes with an open loop along with an elongated antenna.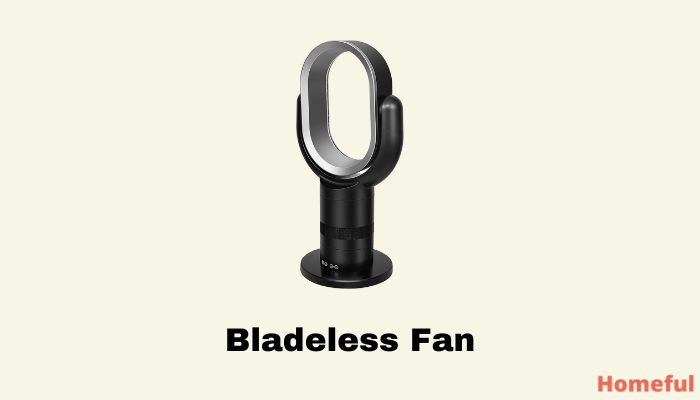 The open loop of the bladeless fan comprises a powerful extracting engine that sucks air, creating a robust air current. The vacuum inside the loop amplifies the air speed almost 18 times and then expels it back.
The hollow loop is equipped with an ionizer mechanism and air filtrating system, which helps to circulate fresh air inside the room.
Pros
Energy efficient
Offers better air circulation
Cons
Expensive price range
Functioning is not noiseless
Best for: The bladeless fan is best for families having small kids or pets. The absence of blades eliminates the risk of accidents.
8. Misting Fan
Misting fan is the best alternative to an air conditioner. The misting fan offers a powerful air throw and sprinkles tiny water droplets. It creates a fresh mist environment, eliminating the last trace of humidity from the room.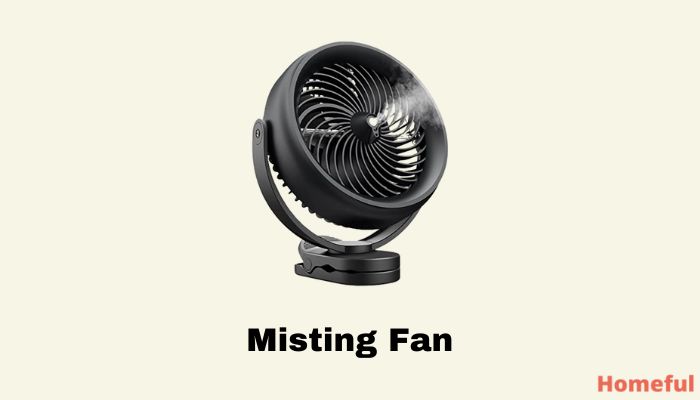 The misting fans require a water supply that is sprayed in the form of a water droplet. The droplets are released through the high-pressure pumps embedded inside the fan. The high-pressure water pump comes with a powerful blower, resulting in high-efficiency cooling for outdoor and indoor spaces.
Additionally, the misting fans also are highly energy efficient, enabling you to save some extra bucks on a long electricity bill. It consumes relatively less than 30 watts of power.
Pros
High cooling capacity
Energy efficient and easy mechanism
Cons
Requires high maintenance
Best for: It is suitable for places where there is an absence of air conditioner
9. Floor Fan
The floor fan offers smooth air circulation at the floor level. The downward air movement offered by the floor fan offers excellent ventilation inside the space by drawing in the fresh air and eliminating stale air.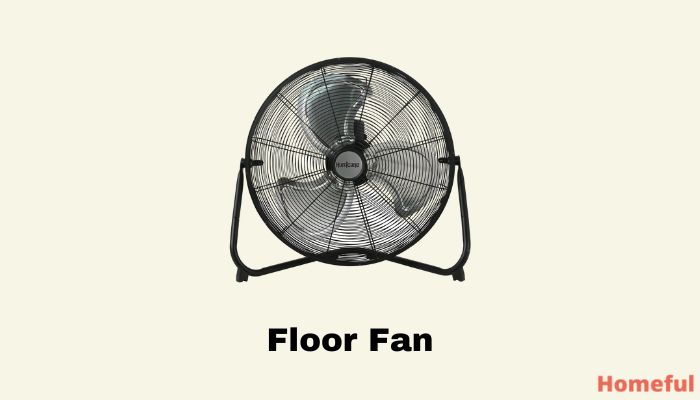 The floor fans offer convenient usage and installation. You can use it for outdoor places such as balconies, patios, terraces, etc. The floor fans are available in various kinds, such as steel, plastic, or metal body. It offers a 180-degree angle rotation that results in smooth airflow.
Pros
Offers a more comprehensive oscillation range
Remote control operation
Cons
Not suitable for large-sized rooms
Best for: The floor fans are suitable for small spaces such as closets, kitchen counters, computer tables, etc.
FAQs Related to Types of Fan
Which fan is best for cooling?
The ceiling is the best for cooling. The bladeless fan is equipped with a powerful engine that offers effective cooling.
How many types of fans are there?
Usually, there are at least fifteen types of fans, including tower fans, wall mount fans, bladeless fans, ceiling fans, floor fans, exhaust fans, and many more.
Which type of fan gives more air?
A ceiling fan gives more air since it is equipped with several blades.
Conclusion
Hence, from our above discussion about the types of a fan, now you know the varieties of fans you can get in the market. All the types of fans discussed above are suitable for various needs and efficiently work to ensure that you get some cool air.
We have also addressed each fan's pros and cons and mentioned the best usage for each fan; thus, you will get in-depth details about which fan to use for which requirement.