Are you looking for a guide on selecting the right microwave oven for your home?
If yes, then you are at the right place.
We will discuss the factors you need to consider while buying a new microwaveoven in India.
Things to Consider Before Buying Microwave Oven in India
Below are the things to consider before buying a microwave oven in India.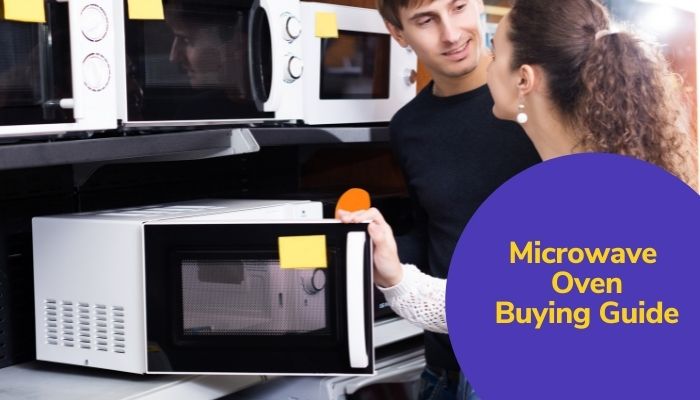 With many models available in the market, it can be quite challenging to pick the one that best suits your needs. So, we have compiled a list of things you need to consider before buying the best microwave oven in India.
Types of Microwave
Solo Microwave: A solo microwave oven is an entry-level model that provides all the essential features needed for your daily cooking. In short, it is best suitable for defrosting and simple cooking. Since these microwave ovens do not come with advanced settings and features, they are relatively cheap.
If you are a single person or a small family, who does not have too many cooking requirements, then solo microwaves are a great addon for your kitchen.
Grill Microwave: Grill microwave ovens are the best if you want an upgrade compared to the solo microwave. Apart from basic cooking and defrosting options, these microwave ovens also provide you with an option to grill the food.
A few grill microwave models come with mechanical knobs, while a few come with touch keypads.
These microwave ovens are equipped with a quartz heater to provide intense heating. Also, this microwave oven has a cavity made of anti-bacterial materials to avoid odors. Overall, grill microwaves are easy to clean and have an energy-saving feature by default.
Convection Microwave: Among the three types of microwaves listed here, Convection microwave ovens top the list in terms of features and versatility in cooking. These types of microwave ovens are preferable.
Right from basic cooking, to grilling, to roasting, this microwave can perform all types of cooking quickly. Mostly convection microwave ovens sport an auto-cook feature, which helps you prepare the food hassle-free.
As the convection microwave ovens are versatile and costly.
Capacity
The capacity of the microwave you choose depends on your cooking habits, the budget you have, and also the number of people in your family. For example, if you are a family of 4, a 19L microwave oven will suffice your needs. However, if you are a large family, then you must opt for a large microwave of 25L to 35L capacity.
Buying a large microwave oven unnecessarily will lead to higher power bills, as the microwave consumes a lot of electricity. So, we suggest you pick the microwave that has an apt capacity to fit your family needs, to avoid unnecessary power bills.
Power Consumption
If you don't want an unpleasant electricity bill to surprise you, you must choose the microwave oven with decent power consumption. The capacity of the microwave (usually measured in liters), and the number of features it offers, determine the power consumption.
Most microwave ovens come with 800 watts to 3000 watts power consumption. For example. If you own a 1000W microwave, it consumes one unit per hour, and in comparison, a 3000W microwave consumes 3 units of power for one hour of operation. Based on your local electricity tariffs, you can estimate the monthly power bills for owning the microwave.
The temperature settings also play a significant role in electricity consumption, apart from the capacity. Based on the type of food you cook, it is recommended to change the temperature accordingly. Having the same temperature settings for preparing different kinds of food will eventually lead to higher power bills.
Size
Just like the capacity, microwave ovens are available in different sizes. Before you purchase a microwave oven, ensure there is enough space in the kitchen to fit the microwave. If you have a small kitchen with limited space, you must opt for a small microwave. Whereas, if you have enough space in the kitchen and are a large family, we suggest picking a large microwave.
Brand
Brand should not be ignored while making a microwave purchase. A well-reputed brand should be your first preference to select a microwave rather than a completely new brand in the market.
Though smaller companies ensure to provide excellent microwave ovens, you also need to consider the after-sale services, customer support, etc., by visiting their outlet or a website. Since well-established brands always have a service center located in almost every city, we recommend you to go with the more prominent brands.
Warranty
The standard warranty for any microwave is 1 year, and however, fewer brands provide a 3-year warranty as well. If you are looking for the best bet for your money, we recommend you pick a microwave with good years of warranty, as it helps you operate the product stress-free.
Price
The oven's features, capacity, and size play a major role in pricing. Make sure to prioritize the purchase based on the features of the microwave oven. If you feel that some of the features offered are of no use to you at this point, then we recommend you buy a microwave that fits your needs. Moreover, it helps you save some bucks. Like if you are looking for options below 10000, you will get microwave ovens between 15 – 25 liters capacity.
Smart Features
Auto Cook: Most microwave ovens come with preset programs and automated menus to help you cook the food faster and with perfection. In a traditional microwave, without the auto cook option, you must constantly monitor if the food is cooked properly or not. However, you need to select the apt program and forget with the auto cook feature.
Your microwave oven will adjust the power and timer accordingly to prepare the food. Most high-standard/advanced microwave ovens are equipped with hundreds of preset programs, and this feature saves your time and makes cooking easier.
Child lock: While the microwave is in operation, the body and door are hot. So, when children accidentally touch the microwave, it can cause severe burns. To avoid these accidents, some manufacturers provide a child lock option.
A child lock option prevents the kids from changing the program options and opening the door while the microwave is in operation. The timer and cooking process will not be impacted when the child lock feature is activated.
Auto Defrost: Most of the microwave ovens are capable of auto-defrosting the food. However, the latest microwave models can perform this even quicker and easier. You need to select the weight and type of food to defrost, and the microwave does the rest of the job for you.
Preheat: If you plan to bake a cake or biscuits in the oven, it must be preheated. If preheating is not done, you will not get the desired texture and good results. Moreover, baking takes a lot of time, consuming more electricity. Hence, preheating is a must for specific food preparations. Check out the microwave ovens that offer baking options to avoid unnecessary power bills.
Timer: The timer is one of the standard features of the microwave oven. With this feature, you can set the timer for baking, cooking, and grilling. Once the cooking is completed, the microwave oven shuts down automatically. Moreover, timers help you cook hassle-free.
Rotisserie: Rotisserie is a steel bar that works on a motor system. This feature isn't available in all the microwave models. It is a unique grilling accessory available only in a few microwave models, and this feature costs an additional 2-3k. Rotisserie comes in 2 variants: Vertical Rotisserie and Horizontal Rotisserie. The horizontal Rotisserie is the best among the two, as it helps in the even distribution of heat. Whether you want to grill meat or vegetables, having a Rotisserie is mandatory for a perfect grill.
Keep Warm: Most microwave models come with a "delay start-time" feature that maintains the food's exact temperature until it is served. This feature will impact neither the flavour of the food nor the taste.
If you are baking a cake or biscuits in the oven, the TurboBaking feature comes in handy. This feature uses hot air and a grill to maintain the crispiness of the biscuits for a long time.
Sensors: Sensors are the latest technology in a microwave. Sensors will analyze the type of food inside the oven and adjust the temperature accordingly. Also, the sensors will analyze if the food is properly cooked or not. Once the food is perfectly cooked, the microwave shuts down automatically. However, this feature is available only in top-class microwave ovens.
Panel: There are 3 types of microwave panels: Feather touch, tact dial, and mechanical. The feather touch control panels work similarly to touch displays on mobile phones. Since these panels are very sensitive, you must operate them very carefully.
The tact dial and mechanical control panels are available in the lower-end models. These kinds of panels can withstand rough use.
Accessories: Most microwave models are provided with additional accessories like microwave-safe gloves, stands to mount the microwave, glass bowls, etc. Apart from these standard accessories, some high-end microwave models come with accessories like rotating glass trays, baking trays, and pizza trays (for some models).
Conclusion
We hope this guide will help you choose the right microwave oven as per your needs.
If you have any questions related to buying a microwave oven in India, do let us know in the comments