Are you looking for a guide on selecting the right kitchen chimney for your home?
If yes, then you are at the right place.
We will discuss the factors you need to consider while buying a new kitchen chimney in India.
How to Choose Best Kitchen Chimney in India?
Below are the things to consider before buying a kitchen chimney in India.
Size
Kitchen chimneys in India mainly comes in two sizes, 60 cm and 90 cm. If you're looking for a chimney and want it to fit your kitchen's size exactly, measure up first! Take measurements of the cooking surface and stovetop that will be on top of your new fireplace so that the chimney does not look out of place when you purchase.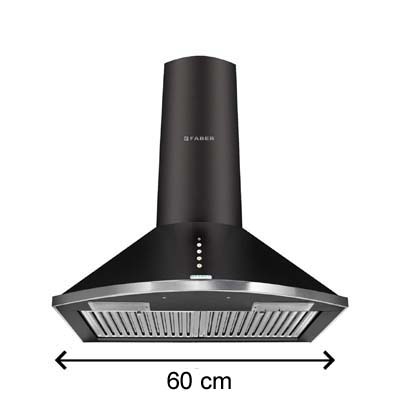 60 cm chimney
90 cm chimney
60 cm chimney: The width of this chimney is 60 cm and it is the most popular chimney size in India. If you have a small kitchen with 2 burner gas stove this size is best for you.
90 cm chimney: The width of this chimney is 90 cm and they are best suitable for large kitchens. If you have a cooktop with 3 or more burners you should consider buying 90 cm chimney.
Design
As per design chimneys are usually of four types, curved glass, pyramid, box type and straight line. Modern chimneys have a sleek design that makes them perfect for modular kitchens, while the more affordable traditional focus on performance rather than style.
Curved glass
Pyramid
Box type
Straight line
Curved glass: They are best known for silent operation and will fit in every kitchen size. Also their suction power and coverage is bit extra due to curved design.
Pyramid: Pyramid chimneys are usually equipped with baffle filters that reduces the energy consumption. They are the most power efficient chimneys compared to others.
Box type: These chimneys have ceiling mounted cook hoods. They are dirt resistant and made with high quality steel and glass materials.
Straight line: This type of kitchen chimney is best suitable for those who have very less space in their kitchen. They have very efficient with enhanced suction power that can effectively remove the smoke from kitchen.
Chimney Type
There are the three types of kitchen chimney available in India, Wall mounted, Inbuilt, island and corner.
Wall mounted chimney
Inbuilt chimney
Island chimney
Corner chimney
Wall mounted chimney: These are the most popular kitchen chimney type in India and they are installed just above the cooktop. They may be ducted or non ducted and they are very efficient in sucking the kitchen smoke. They are affordable and available in different sizes and designs.
Inbuilt chimney: They are installed inside the cabinet to enhance your kitchen interior and they are very expensive compared to other chimney type. Installation is bit complex due to extra wooed work.
Island chimney: These types of kitchen chimneys are installed at the center of the kitchen and bit expensive than wall mounted chimneys. They are best best suitable for those having stove located at the center of kitchen.
Corner chimney: As the name suggests they are installed at the corner of a kitchen and located just above the cooktop against the wall. However they are very less popular in India.
Filter Type
Kitchen chimney filters are of three types depending on the structure, material and filtering process:
Baffle Filter
Carbon Filter
Cassette/Mesh Filter
Baffle Filter: It is the most popular filter type in India. The Baffle filter is a chimney filter that doesn't lose its suction power even when it becomes overloaded with grease and oil.
Carbon Filter: Kitchen odours are the worst, but carbon filters can help absorb bad smells. These need replacing every six months because oil and grease may get clogged up in them too!
Cassette/Mesh Filter: On the other hand, cassette filters have a similar performance to carbon filters, but they can be cleaned and fixed if the oil and grease are clogged up. It does not require frequent replacement like a carbon filter.
Ventilation Type
Kitchen chimneys are usually comes in three types of ventilation: convertible, ducted and ductless.
Convertible
Ducted
Ductless
Convertible:
Ducted: In ducted chimney air is passed through mesh or baffle filter that catches the oil from air. AFter that the air is released though a pvc or pipe. They have very effective suction power and but they are bit noisy.
Ductless: Ductless chimneys are generally equipped with a fan or blower. In this type of chimneys air is passed through charcoal filters that observe the smoke and odour from kitchen. They are very easy to install and operate but have a lower suction power compared to ducted chimney.
Suction Power
To ensure your appliance is working properly, look for a chimney that can change the air in ten minutes or less. If it takes more than 10 minutes to accomplish this task, you may want one with higher suction power.
Noise Level
Most of the chimneys available in the market produce a loud noise while operating. However, there are selected chimneys as well that do not make any such noise while running. So, choose the one that has low dB noise so that you can cook peacefully in the kitchen.
Brand
Brand is very important while selecting a kitchen chimney. so consider buying from a reputable kitchen chimney brand in India like Faber, Elica, Glen, Eurodomo, Hindware, Kaff etc.
Price
Price is one of the crucial factors to consider before buying a chimney. After all, you would not like to use an underperforming product when you shell out a good amount of money. So, research the one that best fits your requirement before you purchase it.
Warranty
Most of the popular kitchen chimneys from reputable brands provide at least one year of warranty. So it is always advisable to buy a chimney with longer warranty. Some new brands provide longer warranty duration to promote their products.
Other Features
Auto Clean: Elegant chimneys are equipped with an auto-clean feature to remove the smoky and oil particles from your kitchen. The filters will clean up the entire dirt and collect the dirt in the oil collector. You need to take out the oil collector and throw out the dirt from it. In short, it makes cleaning the chimney a hassle-free process.
Oil Collector: Some kitchen chimneys do not come with an oil collector. As a result, you can observe stains of oil around the kitchen walls, cabinets, etc. To avoid such a mess in your kitchen, it is recommended to buy a chimney with a detachable oil collector.
Buzzer: Buzzers are very helpful in remaining about the next service time. It maintains the record of hours of operation and updates you accordingly when to get the next service/cleaning done.
LED lights: Chimneys that comes with LED lights are helpful when you need to illuminate the kitchen while cooking.
Touch Control:
Conclusion
We hope this guide will help you choose the right kitchen chimney as per your needs.
If you have any questions related to buying a kitchen chimney in India, do let us know in the comments