Whether you are a bachelor or live with your family, the refrigerator is a must-have appliance in your kitchen. Without the refrigerator, you would fall into numerous problems, such as storing vegetables, fruits, and food for an extended time.
Thus, it remains imperative to purchase the best refrigerator above 400 liters, which can seamlessly cater to all your storage and refrigeration requirements.
If you want to purchase the best refrigerator above 400 liters but need clarification about which one to prefer. In this article, we have created a list of the best refrigerator models you can prefer. We will also discuss a buying guide that would make your purchasing task more seamless and easy.
Top Picks of The Best Refrigerator Above 400 Litres in India 2023
Below is the list of the best refrigerator above 400 litres in India 2023 based on their capacity, energy rating, warranty and unique features.
1. Samsung 415L Double Door Refrigerator
With a total capacity of 415 litres, this Samsung convertible refrigerator is an ideal choice for a family having five to six members. The fridge features five convertible modes which take care of all your refrigeration needs.
The five convertible modes include seasonal mode, normal mode, extra fridge, vacation and home alone mode. The extra fridge mode provides you with more space by converting the freezer into a fridge.
It comes with the latest smart connect inverter technology which ensures that the refrigerator directly gets connected to your home inverter, providing you optimum cooling experience even during power cuts.
This Samsung refrigerator is equipped with twin cooling plus technology, enhancing its cooling operation. The twin cooling plus technology provides separate airflows in the freezer and fridge.
Another significant feature of this appliance is its moveable ice maker. With just a simple twist, you can dispense ice easily whenever required without any hassle. Additionally, the company gives ten years warranty on the compressor and one year warranty on the product, which is a significant benefit.
It comes with spill-proof toughened glass shelves, which can easily carry heavy load utensils without toppling them. The smooth surface and simple design of the shelves ensure easy cleaning and maintenance.
Pros
Comes with smart connect inverter
5 in 1 convertible refrigerator
Twin cooling plus technology
Compatible with solar
Power freeze feature for makes ice 31% faster
Stabilizer free operation
Cons
No light in freezer
No door lock system
2. LG 437L Smart Inverter Double Door Refrigerator
The LG frost-free refrigerator features the latest door cooling plus technology, which accounts for its huge demand in the market. This feature provides constant excellent airflow in the front portion of the fridge, which results in enhanced cooling in the door area.
The convertible nature of the refrigerator enables you to convert the freezer into a fridge, thus increasing the storage capacity. It is provided with toughened glass shelves innovatively designed to carry heavy loads without spillage. The shiny steel colour scheme of this LG refrigerator imparts an elegant look.
You can now store as much as you want without any issue. The Moist N Fresh special lattice-type vegetable and fruit box cover ensures maximum moisture retention, keeping the fruits and vegetables fresh for longer hours.
One of the prominent features of this appliance is LG's intelligent diagnosis system, which helps you diagnose and solve any issue with your fridge. The double twist ice tray equipped in this fridge gives you easy access to ice.
Pros
Comes with smart inverter compressor
Convertible freezer to freeze
Smart diagnosis features
You can connect with home inverter
Durable toughened glass shelves
Cons
Vegetable basket should be bigger
3. Whirlpool 440L Double Door Refrigerator
If you plan to upgrade your refrigerator to the latest one, you can undoubtedly opt for this Whirlpool refrigerator. It features a total capacity of 440 litres, of which the freezer capacity is 113 litres, and the refrigerator fresh food capacity is 323 litres.
The annual energy consumption of this appliance is 235 kilowatts per hour. It is powered by the advanced Intellisense inverter technology, which efficiently adapts the appliance's cooling as per the internal load. This technology provides matchless performance during power cuts while reducing power consumption.
It is equipped with a freshonizer which helps reduce oxidation, maintaining the freshness of stored fruits and vegetables. The zeolite technology in this appliance prevents the excessive ripening of fruits and vegetables.
It is equipped with scientifically designed air towers and strategically placed air vents, resulting in uniform cooling. This refrigerator's adaptive intelligence continuously analyses data, resulting in long-lasting freshness. Another key feature of this Whirlpool refrigerator is its macroblock technology.
This technology prevents 99.9% bacterial growth, ensuring the long-lasting freshness of the fruits and vegetables. In case of load shedding or power outage, the appliance automatically connects to your home inverter, giving you an enhanced cooling experience. The door area of this LG refrigerator comes with ample space, enabling you to store two-litre bottles easily.
Pros
Adaptive intelligence feature
Advanced IntelliSense invertor technology
Auto connect to home inverter
Zeolite technology prevents from ripening of fruits
Prevent up to 99% bacterial growth with microblock technology
4. Bosch 415L Double Door Refrigerator
In the arena of electrical home appliances, Bosch is one of the famous brands with vast popularity. The products manufactured by this renowned brand are known for their high efficiency, superior performance, premium looks and latest technology.
Moreover, the products by Bosch even come within an affordable price range, making them easily accessible to all. This refrigerator by Bosch is another best option you can purchase without second thoughts.
It comes with a dimension of 67 cm in length, 70 cm in width and 186 cm in height. The unique part of this fridge is the freezer at the bottom feature. It has a capacity of 415 litres, making it an ideal choice for small to medium-sized families.
To enhance user experience, it features an automatic defrost system that keeps your fridge frost-free. Moreover, this feature ensures that you do not have a hassle while defrosting the fridge, saving time and effort. It has a three-star energy rating, which accounts for its energy-efficient nature.
Pros
Frost free refrigerator
More space for vegetable and fruits
Multi airflow feature
Separate compartment for fish and meat
 Safety glass shelves 
5. AmazonBasics 468L Side-By-Side Refrigerator
If you are looking for a unique and latest refrigerator that can enhance the aesthetics of your kitchen, this side-by-side refrigerator by AmazonBasics is a perfect choice. The appliance's innovative design and stylish look will be a great addition to your modern kitchen décor.
It comes with a door alarm which alerts you immediately when the door is left open for too long or has not shut correctly. It has ample storage space to store all your food items easily. The multiple shelves and easy pull-out drawers give surplus storage and easy access.
This refrigerator comes with an efficient energy-saving technology which consumes less power for its operation. The appliance's high energy efficiency helps you save extra bucks on the long electricity bill.
The gross capacity of 468 litres makes this refrigerator an apt choice for serving the refrigeration needs of a family with five or more members. It is equipped with a multi-airflow system which ensures a smooth and uniform airflow into all the storage spaces of the fridge.
Another significant specification of this AmazonBasics refrigerator is its quick freeze feature, which instantly turns water into ice. The quick cool feature of this appliance ensures the long-lasting freshness of all the stored food items.
It has a precise temperature control system, enabling you to set and maintain the required temperature inside the fridge. The auto defrost technology prevents excess ice build-up inside the fridge, saving you from the hassles of manually
Pros
More storage space inside fridge and compact outside
Energy efficient
Comes with precise temperature control
Quick freeze and cool feature
Easy to move with coaster wheels
Buying Guide For Best Refrigerator Above 400 liters
Considering the below-mentioned points, you can easily purchase the right refrigerator above 400 liters for your kitchen without any hassle.
Door type: There are various types of doors available in refrigerators, such as single doors, double doors, triple doors, and side-by-side refrigerators. Usually, the best refrigerators above 400 liters have types of doors such as double doors, triple doors, and side-by-side refrigerators.
The double-door refrigerators have dedicated freezer compartments, and they are energy efficient. Whereas the triple door refrigerator has the freezer on top, they are more spacious and have a separate vegetable drawer. Similarly, the side-by-side refrigerator is suitable for large families, multiple freezer sections, etc. You can prefer anyone as per your requirement.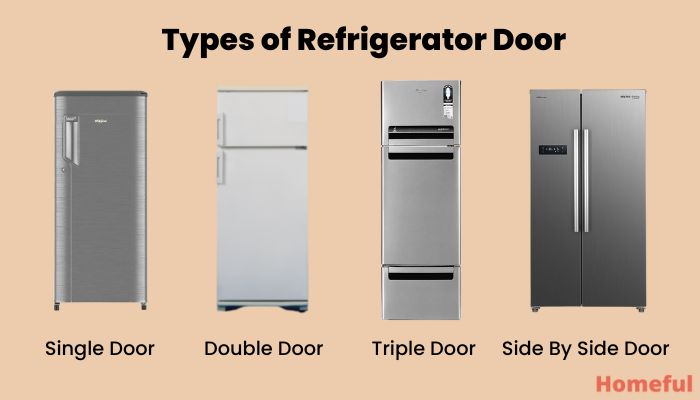 Direct cool and frost free: Direct cool and frost-free refers to the advanced technology used in refrigerators. The frost-free refrigerators do not require manual defrosting; it is done automatically, whereas the direct cool refrigerator requires manual defrosting. The direct cool refrigerator keeps the food fresh and cool for a long time during a power outage.
Similarly, in terms of energy efficiency, the direct cool is more energy efficient than the frost-free. But the preservation capacity of frost-free is more than direct cool. Not only this, but also the convection method is different in both types; frost-free uses an electric fan, but direct cool uses the natural convection method.
Energy rating: One of the essential factors you need to consider while purchasing the best refrigerator above 400 liters is its energy rating. I always prefer the model of the best refrigerator which has more stars. The more the number of stars, the more energy-efficient the refrigerator will be. A five-star-rated refrigerator will consume 15% less energy than a three-star-rated refrigerator.
Compressor type: The compressor is regarded as the heart of the refrigerator. Usually, there are two types of compressors: single-type and inverter. The inverter compressor is more efficient than the standard compressor as it produces less noise, consumes less electricity and temperature variation is also less and has an enhanced life span than a standard compressor.
Smart features: Another thing you need to consider while purchasing the best refrigerator above 400 liters in india is whether it has smart features. It is preferable to consider a refrigerator model with smart features such as a touchscreen interface, access to apps, a built-in browser, which enables you to surf the internet from the refrigerator door, and an interior camera to look into the refrigerator without opening its door, etc.
If you are interested to know more about refrigerators, checkout our in depth refrigerator buying guide which help you to choose the right refrigerator.
Best Refrigerator Above 400 Litres in India FAQs
Which is better 3 star or 4 star refrigerator?
A higher energy star rating for your appliance leads to better power consumption. So a 4-star rating refrigerator consumes less energy than a 3-star refrigerator.
Are 5 star refrigerators worth buying?
Yes, We recommend buying a refrigerator with a 5-star energy rating because it is highly efficient and consumes less energy.
What is the life of a refrigerator?
Most of the refrigerators designed nowadays have 5 – 10 years of life. If you regularly clean and maintain your refrigerator correctly, it may last upto 10 – 15 years.
Wrap up!
The models mentioned above of the best refrigerators above 400 liters are efficient and equipped with numerous impressive specifications. They can easily cater to all your refrigerator and storage requirements.
Whatever the size of your refrigerator, you must clean it regularly for its long life. You need to follow some basic steps to clean your refrigerator more effectively.
We also hope that from our above discussion about the buying guide, you can purchase the right model of the best refrigerator above 400 liters in a seamless and hassle-free manner.
Do you have any questions about buying the best refrigerator above 400 litres in India, please let us know in the comments.
You may also interested in:
Best refrigerator above 300 liters
French door vs side by side refrigerator
Single door vs double door refrigerator