Food Processor vs Mixer Grinder, many peoples are confused while buying any appliance among these two.
Appliances such as blenders, mixers, grinders, and food processors are used daily in a kitchen. One of the first questions that usually arise when purchasing a mixer grinder is whether you prefer a food processor or a mixer grinder. The two kitchen appliances are commonly used to grind spices, meats, and vegetables.
In this guide, we have provided detailed information for food processor vs mixer grinder, like the difference between a food processor and a mixer grinder, their advantages and disadvantages, and which one you need to choose for your cooking requirements?
What is a Food Processor?
Food processors are multipurpose kitchen tools with a wide variety of functions. Besides chopping, shredding fruits and vegetables, and making dough, this machine can process a broad range of foods. It is one of the major reasons food processors are best preferred over blenders and choppers, as they are only specialized in one type of function.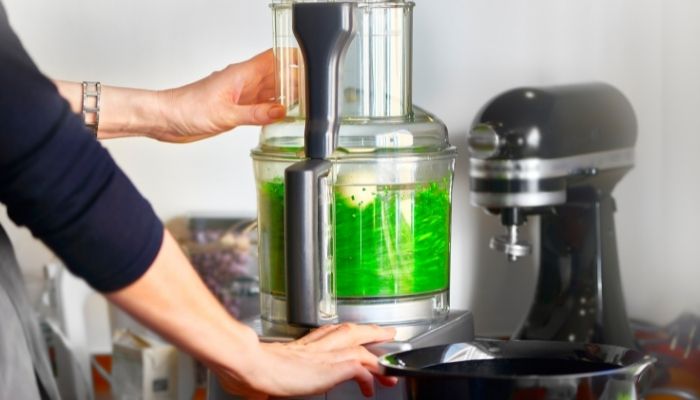 In the food processor, the disks and blades are changeable, making it a multipurpose appliance. This appliance comes with different "S blades" and jars for other grinding purposes.
Food processors have four components: replacement blades, a plastic body, a base, and a cover. The base consists of the control knobs, the jar consists of a large space to feed the ingredients, and the lids have large chutes to fill the ingredients into the processor while it is in operation.
Pros
You can use it for a variety of purposes
It can do the chopping, grating, and shredding
Compared to mixers, food processors are very spacious
Unlike mixers, you won't get hurt with the food processor blades
People who like to have healthy salads can quickly prepare them through food processors
Cons
This appliance is not best suitable for preparing liquid foods or puree
It consumes a large space in the kitchen
Since the appliance is bigger, it consumes a lot of time for cleaning
It consumes more electricity than a traditional mixer
Sometimes the vegetables and fruits are overcut
They are noisier than the mixer grinders
Uses of a Food Processor
Food processors come in different extensions that cater to varying types of work like cutting, shredding, and grating.
Mincing or cutting the meat is generally difficult. But with a food processor, you can easily cut the meat.
You can chop the required ingredients and feed them in the food processor and then pulse it to prepare a fine sauce for your nachos or dips for other kinds of food.
With a food processor, you can easily prepare dough for your chapatis and batter for dosas with ease.
You can easily prepare fine crumbs from bread and other solid foods with the S cutting blade.
What is a Mixer Grinder?
Blending materials and producing smooth pastes require the use of a mixer grinder, and you can easily use it to make smoothies, pastes, and batters. A mixer grinder is a hybrid machine with two functions: a mixer and a grinder. Two jars are included, one small and one large, and they are used to fine grind the components.
Both wet and dry products like spices, coffee beans, batter, etc., can be ground easily in the mixer grinder. As per your grinding needs, you can find many jars (though quite expensive) that can flawlessly powder any ingredient you feed into the grinder.
A good mixer grinder can go up to an RPM of 10,000, making it consume less electricity than the food processors. A mixer grinder with 750-watt is ideal for both small and large families, as it is neither too powerful nor too low in performance, and it delivers the right kind of performance for your needs.
Pros
Mixers can handle both wet and dry grinding very well. You can even use it for preparing perfect puree.
Unlike food processors, mixer grinders do not consume too much space.
Mixer grinders are very easy to maintain as well as clean.
Mixer grinders have multiple speed settings that make them suitable for grinding any ingredient.
Mixer grinders are more affordable compared to food processors.
Cons
Due to the shape and size of the blade, cutting and chopping sometimes might be inconsistent. Sometimes you can hurt yourself as well while chopping.
With long use of time, they get overheated. When buying the mixer grinder, always look for an overheat protection feature.
Sometimes if the base is not uniform, the mixer grinder tends to vibrate, and the ingredients in the jar might spill out.
Sometimes the mixers make noise while operating.
Uses of a Mixer Grinder
You can use a mixer grinder to ease grinding masalas, spices, and other Indian ingredients.
Wet grinding is also possible with mixer grinders. For example, you can prepare a perfect dosa batter with mixer grinders compared to food processors.
You can quickly prepare juices and smoothies with the help of mixer grinders as they come with a different set of blades for the same purpose.
Food Processor vs Mixer grinder
Usability
Liquidizing, grinding, preparing, you can do smoothies with the help of a mixer grinder. On the other hand, a food processor can perform all the mixer grinder activities and perform actions like kneading dough, slicing, and shredding. It makes the food processors more versatile compared to the mixer grinders.
Design
Compared to mixers with fixed jars and blades, food processors occupy more space, as they come with different sizes of blades and accessories that cater to different mixing and grinding needs. Though you can change the blades of food processors, they come only with one jar. On the other hand, mixers come in different jar sizes. Also, mixers are made of stainless steel bodies, whereas food processor jars are made of polycarbonate, which is unbreakable.
Price
If you are looking for basic cooking needs, mixer grinders can serve the purpose. Moreover, mixer grinders are affordable compared to food processors.
Limitations
A food processor cannot make liquids like juices, purees, etc. On the other hand, a mixer grinder can help prepare dry and wet food items, but it is not capable of shredding, slicing, etc. So, both these appliances have their own set of limitations.
Power consumption
Due to various food requirements, food processors consume more electricity than mixer grinders. A typical mixer grinder consumes 500 to 1000 watts of power, whereas food processors consume 600 to 1000 watts.
Material
The jars of a mixer grinder are stainless steel, whereas the jars of food processors are made of unbreakable polycarbonate. So, compared to mixer grinders, food processors are very strong.
Cleaning
Due to its complex build, food processors require a lot of time for cleaning. On the other hand, mixer grinders are very simple to build. Hence, you can clean them quickly.
Maintenance
Since the food processors are capable of kneading dough, slicing, shredding, etc., food particles can get stuck to the walls of the jars. Hence, cleaning it takes a lot of time, and maintaining it isn't easy. On the other hand, since mixer grinders are made of stainless steel, food particles do not get stuck to the walls of the jars. Hence, they do not require much cleaning and maintenance.
When buying a mixer, it is essential to look for overload protection, whereas, while buying a food processor, one must look for dishwashing compatibility and overload protection.
Conclusion
We hope we have resolved all your food processor vs mixer grinder queries. If you are a fitness freak and prepare more than 3 meals a day, it is recommended to opt for a food processor. On the other hand, if you have very few grinding and mixing requirements, it is recommended to buy a basic mixer grinder, as it is also capable enough to prepare your daily dishes easily.