Gone are those days when one had to carry out the daunting task of grinding the ingredients on a stone slab. Technological advent has provided human society with various wonders, and one such wonder is the wet grinder. With the presence of a wet grinder in your kitchen, making your favourite recipes such as idli and dosa has become an easy task.
A wet grinder aids in preparing the batter, which retains all the nutrients without getting destroyed by the heat. With the growing demand and need for wet grinders, the market is packed with various options that can leave you in a dilemma.
Therefore, to end your dilemma, we have curated a list of the best-wet grinders worth purchasing. Moreover, we have prepared a brief buying guide to ensure that you choose the ideal wet grinder model. This buying guide consists of the essential factors that need to be considered while buying one.
Top Picks of The Best Wet Grinder in India 2023
Below is the list of best wet grinder in India based on capacity, motor power, performance, quality, warranty and customer reviews.
1. Elgi Ultra Grind+ Gold Table Top Wet Grinder
The Elgi Ultra Grind+ Gold is a 2L wet grinder that falls within the Rs 7K budget range. If you are looking for a wet grinder with an electronic timer system, the Elgi Ultra Perfect+ is a better option, but it is more expensive. The Grind+ model does not have this feature, but it is still a great choice for a wet grinder.
The food-grade stainless steel drum is perfect for grinding and storing batter. You can place it in the refrigerator directly, thanks to its rust-resistant construction.
The flow breaker arrangement pushes the batter under the stones as the drum rotates. It speeds up the grinding process. Specially-placed plastic teeth in the batter remover assist in cleaning the grooves on the grinding stone of batter sticking to them.
Since conical stones grind the batter without heating it, they provide better performance. It results in crispier dosas and fluffier idlis.
Pros
Light weight ABS plastic body
It equipped with AISI Stainless steel drums
Heavy duty motor gives even and perfect grinding
Spacious 2 liters drum
Patented conical grinding stones generate less heat
Batter cleaner attachment for cleaning easily
Multi-Utility Drum
Cons
Little bit mash cleaning of conical grinding stones
The lid needs regular maintenance
2. DGMR ENGG WORKS YJ666 Wet Grinder
The DGMR Sowrna Lakshmi Wet Grinder is popular for Indian households and restaurants. This multi-functional grinder can grind spices and cereals, as well as wet grinding. It comes with an Atta kneader and coconut scraper attachment, making it a versatile choice for your kitchen.
The stainless steel blades of the coconut scraper make it easy and fast to shred fresh coconuts. Hold the coconut firmly while shredding to make the process easier, and be sure to use a cleaning brush and gloves to keep the blades clean.
This product has a powerful motor of 150 W. Its robust construction and solid body; it can grind any ingredient in less time. It features an insulated body that ensures consistent temperature when used for wet grinding.
The body is designed with a smooth mold, making it easy to clean with little effort. You can separate the bottom for easy cleaning of the stone and drum. This wet grinder is perfect for Indian cooking. With a capacity of 2 liters, it can grind up to 500 grams of soaked rice or dal at a time.
Pros
Cylindrical (circular) granite stone generates less heat than mixer
Durable stainless steel drums
Heavy duty motor gives even and perfect grinding
Its 2 liters drum is perfect for small family.
Easy to clean and maintain
Unbreakable transparent lid is heat-resistant and durable
3. Havells Alai Wet Grinder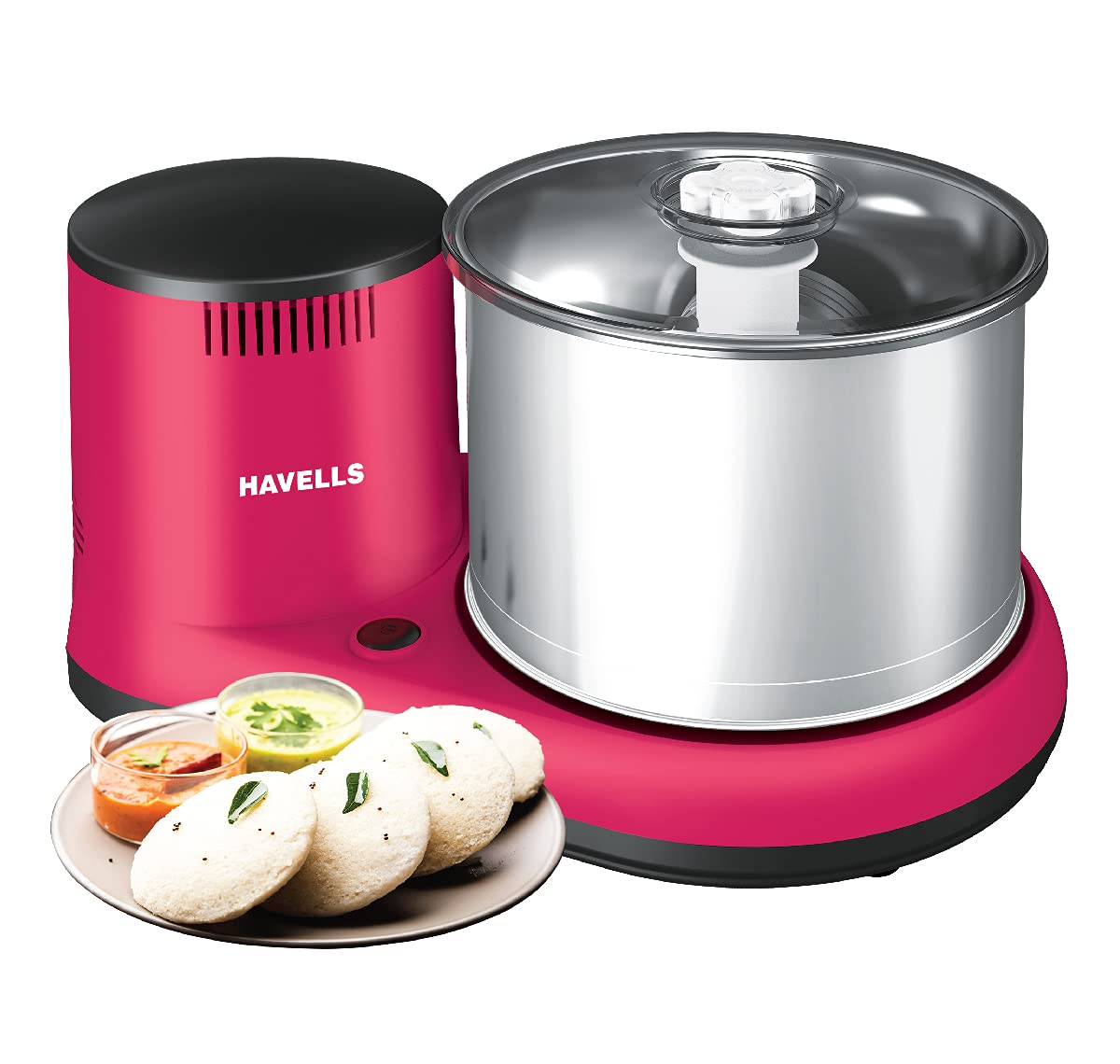 Capacity – 2 Liters
Wattage – 150 Watts
Warranty – 2 years on product and 5 years on motor
This wet grinder from Havells has all the features you'd expect from a quality product. It's got an effective conical attachment which is great for grinding spices, coffee beans, and even coconut. The lid is also made out of PP carbonate material which is impact-resistant and highly transparent to see what you're grinding easily.
It has a 1440 RPM motor which ensures that you don't have to run it for a long time to get the harsh ingredients to a fine consistency.
There are two different grinding stones included in the package, one for hard materials and one for soft materials. They both have cutting grooves so you can choose the best one for your task.
It has a strong carbonate lid made of high-quality material and is quite sturdy. You can remove the lid to see inside the container, which is great for cleaning the inside of the container.
Pros
Cylindrical granite stone generates less heat than mixer
150 W heavy duty motor gives even and perfect grinding
2 liters multi purpose stainless steel drum
Easy to clean and maintain
Break resistant transparent lid
4. Butterfly Rhino Table Top Wet Grinder
If you're looking for a wet grinder that can meet the needs and requirements of Indian users, the Butterfly brand has just what you need. This wet grinder comes with a total capacity of 2L, perfect for most Indian families. Plus, you can rely on its effective performance.
This particular model has a body made of ABS plastic, and it feels very solid and durable. It's portable too, and you can take it almost anywhere. The jar material is stainless steel, so you don't have to worry about getting scratched or dented.
It is important to note that this grinder is built with 150W motor power, making it one of the best grinders available. Also, the lock system and ventilation that comes with this grinder make it safer than any other grinder available.
It comes with a 2-year warranty for the product and the motor, fairly standard for most wet grinders.
So if you want to get a wet grinder that will last for many years, buy the Butterfly Rhino. It'll be a good investment, and you can rest assured that it will serve you well.
Pros
Its cylindrical stone is durable and efficient
150 W heavy duty low power consumption motor
2 liters multi purpose stainless steel drum for longer life
Compact and easy to handle
Break resistant transparent lid
ABS body material
Cons
Little bit noisy
Not provided coconut scraper
5. Ponmani Power Plus 225W Wet Grinder
Capacity – 3 Liters
Wattage – 225 Watts
Warranty – 1 years on product and 2 year on motor
This 3-liter wet grinder with a tilting base makes it easier to hold and use while grinding. It comes with a powerful motor capable of grinding up to 1.5kg of rice or 350gm of dal at a time.
The motor has a powerful torque, and the tilting base makes it easier to use while grinding. This grinder is equipped with an LHLR (Lateral Hydraulic Lever Rotary) technology motor, enabling it to grind chilies, garlic, onion, ginger, coriander seeds, nutmeg, mace, cardamom, cinnamon, cloves, and many more with ease.
Pros
3 liter stainless steel tilting wet grinder
The powerful LHLR technology copper motor
Easy to clean
It consume very less space
ABS body material
6. Butterfly Hippo Table Top Wet Grinder
The wet grinder has a 2-liter capacity, producing a powerful grinding effect. It comes with two roller stones, and you can use them together or separately.
The container is made from durable stainless steel, and the lid is made from polycarbonate material that is shockproof and BPA-free. It has a locking mechanism that keeps the lid secure when the unit operates.
The machine has a 4-way grinding system and ensures uniform grinding pressure. The motor is sturdy and powerful, and it offers great grinding performance.
Pros
Comes with durable cylindrical stone
150 W heavy duty motor provide uniform grinding
2 liters detachable stainless steel drum
4 Way grinding system
Unbreakable and transparent lids 
Shock proof ABS body material
7. Ultra Mini T Wet Grinder
It has a powerful 85-watt motor that allows you to grind effectively with less heat, and the conical grinding stones ensure that you get the most effective grinding possible. The digital timer automatically stops the grinder after the set time, and it comes with a beep alert, so you'll always know when it's time to refill. It has an automatic shut-off feature that stops the motor if it runs for too long.
This wet grinder is perfect for a family of 4 members. Because of its ergonomic design, this wet grinder is easy to use and clean.
Pros
Comes with 85 Watts heavy duty motor provide even and uniform grinding
1.25 liters wet grinder is perfect for small family
Patented conical grinding stones generate less heat while grinding the batter
High quality AISI stainless steel drum for healthy food
Alert alarm
Auto switch-off at preset grinding time
Shock proof ABS body material
Cons
Little bit noisy
Take more time to grind
8. Bajaj WX1 Table Top Wet Grinder
The Bajaj WX1 230-Watt grinder comes with a strong 150-watt single-phase motor and a roller stone construction that assures fast uniform and precise grinding.
The grinding jar has a capacity of 2 liters, which means you can use this to make small or large quantities of whatever you're grinding.
The stainless steel drum and the plastic container are both BPA-free, and the plastic container is also made from food-grade plastic. It makes it safe to use for all types of food. The stainless steel drum is also rust-proof, which means you don't have to worry about it corroding or rusting. It comes with a 2-year warranty.
Pros
Powerful motor
2 liters Ss202 stainless steel drum and rust proof materials
LED indicator
Alert alarm
Shock proof Food grade plastic
9. Butterfly Smart Wet Grinder
The Butterfly Wet Grinder Table Top is compact enough to fit in your kitchen. The ABS plastic body is shockproof and heat resistant. The conical roller stone units and the cylinder hold a capacity of 2 liters and give smooth tiffin for you. The coconut scrapper offers various advantages in making your cooking easier.
The material is robust enough that it does not usually break easily. The ventilator regulates body temperature. It works well with 230 V Ac-50 Hz power. The motor is built so that it protects against overheating or overload abnormalities.
It has two cylindrical stones that provide a smoother batter. These stones will give you an excellent grind.
The Smart Table Top Wet Grinder has a lightweight cylinder that is simple to handle. It's easy to grasp and clean in a straightforward and uncomplicated manner. The ABS shell is smooth enough, and you can wipe away any old flour with ease. With this grinder, maintenance becomes a breeze.
Pros
2 cylindrical stones make batter fluffy and softer
It comes to ventilator that helps to regulate the heat
Easy to handle and light weight wet grinder
4 way grinding system
Heat resistant shock proof ABS body material
Looks smart and stylish that décor your kitchen
Cons
Little bit noisy
Not easy to lift
10. DGMR YJ444 Wet Grinder
The grinder is made of food-grade stainless steel, which adds to its attractiveness and durability. Despite being exposed to wetness, the wet grinder is resistant to rust and may be used to age the batter for longer.
This wet grinder uses a cylindrical (circular) granite stone that is rolled against another plate with the materials to be ground between them. It ensures efficient and smooth grinding of batter.
This stone grinder produces less heat than a mixer, and the food's flavor is not affected by heat. Furthermore, stones are more durable and last longer than metal blades.
Pros
Come with heavy duty motor that works smoothly even when overload
Food grade high quality stainless steel drum
2 cylindrical granite stones make batter fluffy and softer
Easy to clean both stone and drum
Unbreakable transparent lid
Looks smart and stylish that décor your kitchen
11. SmartFingers Comfort Plus Table Top Wet Grinder
With the SmartFingers wet grinder, you will greatly simplify the cleaning process with the first-of-its-kind hands-free batter dispatch. Forget about cleaning: fill a basin with water and turn on the SmartFingers Comfort Plus to get it sparkling clean!
The AISI 304 stainless steel stone holder is rust-resistant, long-lasting, and simple to maintain.
Pros
Cylindrical stones make batter fluffy and softer and generate less heat while grinding the batter
Stainless steel stone holder are rust proof, durability and easy to clean.
Hands-free automatic batter dispatch
Easy to handle and light in weight wet grinder
ABS body material
It consume very less space
Looks smart and stylish that décor your kitchen
How to choose the best wet grinder? (Buyer's Guide)
Here are some of the most important points to consider when selecting a wet grinder:
Grinder type
The wet grinder will only function as intended if you choose the appropriate model. Yes, because the various types of wet grinders are designed to allow for various operations and convenience to users, you must choose them with extreme care.
There are 3 types of wet grinders:
Tabletop: The Mini wet grinder resembles a smaller version of the original wet grinder. It's made up of two to three stones that can be cylindrical or conical in shape. The drum that contains the stones is generally constructed of stainless steel or stone. It is an excellent alternative for loading little amounts and quickly producing batters out of it. It's light, requires no installation, and is simple to relocate from one location to another. It's ideal for a small household.
Regular Wet Grinder: This is a commercial-grade grinder with a larger capacity. Even large families would benefit from this sort of grinder since they require large amounts of grinding. It is ergonomically designed with a single stone, held in place by a steel rod and an iron belt that resembles the shape of the stone. Because this type of grinder is so massive and takes up so much floor space, it's difficult to install and maintain. It's generally single-stoned.
Tilting Wet Grinder: The tilting type wet grinder requires minimal space, is solid, and can also be used for dry grinding.
Size
The size of the wet grinder depends on the space you have in your kitchen. Moreover, if you have a large family, you need to opt for a large wet grinder.
Capacity
The next thing to consider while selecting a wet grinder is its capacity. The capacity of the wet grinder you choose should match your needs. Otherwise, there's no sense in purchasing one.
Depending on the manufacturer and usage, a wet grinder's capacity is usually measured in liters, ranging from 1liter to 5/10liters. A 2-liter capacity wet grinder is adequate for normal Indian households.
Motor
The motor is the most important element of any wet grinder. If your selected wet grinder has a strong and efficient motor, you will have no trouble operating it. Remember, the more powerful the motor is, the better it will perform.
Grinding wheels
The stones connected to the drum for grinding are known as grinding wheels. A wet grinder with 3 stones is an excellent choice for perfect grinding. However, two stones are also a viable alternative.
Drum body
A drum's body, i.e., the material, is crucial. Stainless steel drums are the best option if you need a durable drum.
Overload protector
Sometimes, if the wet grinder is used frequently or the food items to be ground are more than its capacity, it gets overloaded. An overload protector must be installed in the wet grinder to prevent serious electric damage.
Brand
It is unquestionably critical to get a wet grinder from a well-known and reputable brand to ensure that all features are of high quality. Even though several local brands with wet grinders are available, you may not receive the desired level of quality from their product.
As a result, it's advised that you invest in a well-known brand for quality assistance and features.
Price
There are so many wet grinders on the market that it's easy to be overwhelmed. You may also discover a plethora of wet grinders that are considerably more expensive than those already on the market. Though you may be tempted to purchase the more expensive versions, keep in mind your pre-determined budget before making any final decision.
Warranty
Look for the grinder with the longest guarantee period. It is because you don't want to wait for brand assistance on issues you're having. With a long guarantee period, you may easily fix all of your issues without requiring significant or any investment.
Accessories
The number and kind of accessories given vary from brand to brand. The following items are common:
Coconut scraper
Atta kneader
Batter Sampler
DO's
Before using a drum, you should always clean it.
Before you grind, make sure the stones are properly positioned and rotating.
Make sure the wet grinder is always dry before using.
Put the wipers in the direction of the motor.
Clean the stones by removing the roller assembly.
Grind small quantities of food.
Position the wet grinder on a horizontal surface.
Mix the ingredients with a sufficient amount of water.
For first-time users, you must read the instruction manual carefully.
If the wet grinder is malfunctioning, always have a technician fix it.
Improve the performance of the wet grinder by using the accessories supplied by the manufacturer.
Don'ts
Wet grinders should never be used if they are wet.
It would be best never to run wet grinders with an empty container.
Avoid overloading the wet grinder by never filling it up completely.
Using too much water or too little water can cause the wet grinder to malfunction.
Kids shouldn't use the wet grinder because it can harm them.
When using the wet grinder, keep your hands away from the drum.
Don't try to fix the wet grinder yourself; call a technician.
What are the benefits of using a wet grinder?
A wet grinder is necessary kitchen equipment for Indian cooking, particularly South Indian cuisine. Here are some of the advantages of having a wet grinder in your home:
Food flavor is not affected by the heat released during grinding.
In comparison to a mixer, very little heat is released.
Compared to a mixer, a wet grinder has sharper stones and better results.
Compared to blades fitted in a mixer, stones are more durable.
Results from wet grinding are similar to those obtained using traditional grinding.
How to clean a wet grinder?
Regular cleaning of your wet grinder will improve your performance. Here are some things you must do to keep your wet grinder clean:
Detach the grinding stones and holder stick from the drum and rinse them under a sink. Before putting the stones back in the drum, let them dry completely.
You can clean wet grinder corners and batter stains with a brush.
Wipe the motor with a damp cloth and let it dry before using it again.
Dry out the drum either by using a clean, dry cloth or by placing it upside down so that all the water drips out.
Dry the wet grinder components completely before putting them back together.
Maintenance tips for a wet grinder
Here are a few tips for maintaining your wet grinder in perfect condition:
Clean Your Wet Grinder After Every Use
Only a well-maintained wet grinder will work efficiently. You should always clean it thoroughly after use. You should clean the drum and stone assembly separately to prevent food particles from sticking. Fix all the attachments only after the wet grinder has been cleaned and dried.
Place it on the Right Platform.
For the wet grinder to work properly, you must keep it on an even surface. When placed on an uneven platform, the grinder will vibrate, further causing problems.
Add Adequate Water to Grind the Ingredients
A lower amount of water may result in increased belt tension, thus further causing damage to the grinder. Add the right amount of water – neither more nor less. Make sure you measure the correct amount of water with a measuring cup.
Don't Operate the Grinder When it is Empty.
Wet grinders should never be run empty because they can damage the rollers, reducing their longevity.
Try to Clean the Grinder even if not used Regularly.
If the wet grinder's rollers aren't properly cleaned regularly, they will accumulate dust and debris, subsequently developing an unpleasant odor. Always clean the rollers after use at least once every few weeks to maintain them properly.
Go Through Instruction Manual
If you have no experience with wet grinders, don't operate without reading the manual. With the greatest wet grinders available online and offline, manuals are useful. To get your grinder into working order, follow the directions carefully.
How to use a wet grinder?
For effective performance of the wet grinder, you can use it in the following manner:
Attach the Components
Assemble all the pieces in a wet grinder. Mount the stainless steel drum on the center rod. Rotate the drum to make sure it is settled in. If it moves smoothly, you're good to go.
The roller mechanism should be placed inside the drum.
Add water
Use a measuring cup to add as much water as to blend the food. Make sure the lid is locked properly by pressing down on it.
Turn On The Grinder
Turn on the wet grinder. The stones take a while to begin grinding.
Add Ingredients
Using the open lid, add the contents in tiny amounts. You may hamper the product's durability if all components are combined. Keep adding water to keep it moist; don't forget to do so.
Turn off the Grinder After Use
Switch off the grinder and release the lock after you have reached the consistency you desire.
Remove The Mixture
Get rid of the drum and take out all the mixture. Store everything else in the drum. You can store it in the refrigerator with a lid.
Best wet Grinder in India FAQs
What things can I grind using a wet grinder?
You can use a grinder to grind anything that contains water or any other liquid. The batter for your idli can be prepared using your grinder. Even though different households prepare idli batter differently, water always plays a role. In short, a wet grinder is perfect for preparing all South Indian recipes.
Can I use a wet grinder for dry grinding?
You should always grind anything in a wet grinder with a liquid. If the grinder is not wet, it can be damaged. Grinding dry ingredients like spices can mess up the grinder.
What are the common accessories provided with a wet grinder?
Almost all modern wet grinders come with coconut scrapers and atta makers. In addition, most wet grinders come with batter scoopers or spatulas that make batter removal easier.
Do wet grinders produce lots of noise?
Almost all wet grinders make a lot of noise. Most modern wet grinders, however, operate at lower decibel levels.
Conclusion
A wet grinder is an essential electrical kitchen appliance that has upgraded our cooking experience. If you are planning to purchase the latest wet grinder, you can opt for any of those mentioned best wet grinder models.
These best wet grinders feature the judicious amalgamation of the latest technology and advanced specifications, which accounts for their greater usability. We hope that the buying guide will let you choose the best wet grinder model to meet all your grinding needs effectively.
You may also interested in:
Best mixer grinders under 2000
Best mixer grinders under 3000
Best mixer grinders under 4000
Best mixer grinders under 5000