Be it biryani, pulao, khichdi, or porridge; rice is one common ingredient in all these mouth-watering dishes. Rice is an integral part of every Indian household and dish. To ensure these dishes achieve the perfect level, they need to be cooked at the proper temperature.
And for this, what could be better than a rice cooker? Though there exist various traditional ways and methods of cooking rice, they have various drawbacks, while in some cases, the rice gets overcooked or under-cooked. Moreover, the aroma of the rice, which is one of the essential characteristics, is lost. A rice cooker enables you to cook the dishes perfectly and keeps intact the aroma and taste.
Owing to the enormous benefits of rice cookers, you will easily find myriad options in the market with various cooking functionalities and power-saving features. From different colors to the latest specifications and brands, the market for rice cookers is sure to spoil you for choices.
Such huge options can be pretty confusing. And therefore, to ease your work, we have curated a list of the best rice cookers in India that will help you select the best model that serves both your requirement and budget.
Which is the best rice cooker in India?
Below is the list of best rice cookers in India based on features, body material, handle quality, wattage, customer reviews and warranty.
1. Prestige Delight PRWO 1.5 Electric Rice Cooker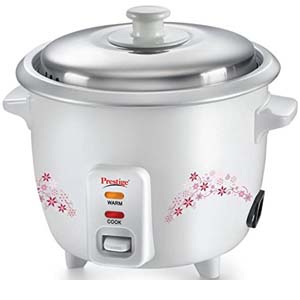 Prestige is one of India's most popular and trustworthy brands when it comes to kitchen appliances. The products manufactured by Prestige are known for their high quality, which accounts for their massive popularity in the market.
This rice cooker by Prestige comes with a 1.5L capacity which makes the perfect choice for a middle-sized family. The cool-touch handles of the rice cooker make it easier for you to handle it without the fear of burning your fingers.
This Prestige rice cooker features a close-fit stainless lid that prevents the contents of the rice cooker from pouring outside. The pure white color of the rice cooker imparts it an elegant and stylish look, thereby making it a perfect addition to the kitchen. It has a removable inner bowl made of high-grade aluminum. Moreover, various other accessories are provided with the Prestige rice cooker, such as a measuring cup and plastic spatula to ensure ease of usage.
2. Panasonic SR-WA22H(E) Automatic Rice Cooker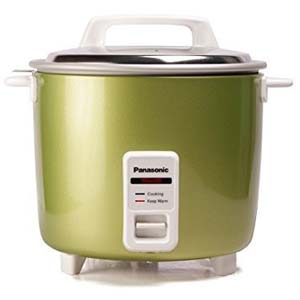 If you are on the search for a rice cooker that features an elegant look and the latest specification, this rice cooker model by Panasonic is an ideal choice. The rice cooker's shiny apple green color body gives it a stylish and contemporary look. The total volume of this rice cooker is 2.2 liters which can quickly cook up to 1.25 kg of raw rice.
It comes with an anodized aluminum pan that ensures the rice does not stick to the base or the wall of the inner bowl, thereby facilitating easy cleaning. Another primary reason that makes this Panasonic rice cooker model one of the best options is its BIS Govt Approved certification that ensures the trustworthiness of the brand and product.
A unique feature of this rice cooker is its 5 hours keep warm specification which ensures that you can enjoy a hot rice meal for up to 5 hours.
3. Geek Robocook Zeta 5 liter Electric Pressure Cooker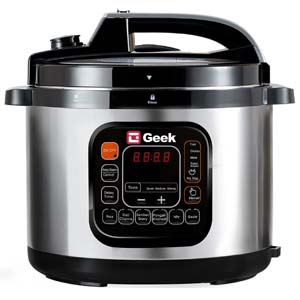 With a total capacity of 5 liters, the Geek Robocook Automatic Electric rice cooker is the ideal option for large-sized families. Geek Robocook holds BIS certification, which is the appellate safety authority of India.
The possession of this rice cooker gives you access to the Geek Robocook recipe application that consists of more than one thousand unique recipes. The special recipe booklet will allow you to try your hands with numerous tempting dishes. Moreover, the rice cooker is programmed, intelligent cooking that smartly manages heat, temperature, and pressure.
Moreover, its latest feature, Robocook Zeta, provides a circumvent cooking process that helps preserve the ingredients' nutritional value. The most prominent feature of this rice cooker is its innovative features that allow you to carry out various tasks such as baking, steaming, braising, sautéing, and frying. The various accessories include silicone gasket, tempered glass lid, steamer basket, strainer, egg rack, steamer rack, etc.
4. Prestige Delight PRWO 1 Liter-Electric Rice Cooker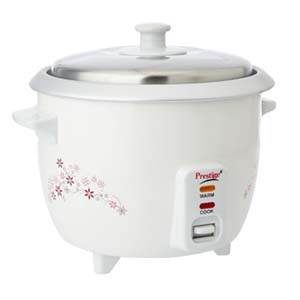 For those looking for a small and lightweight rice cooker that does not consume too much space, this rice cooker model by Prestige is the ideal choice. The total capacity of this rice cooker is one liter which can cook up to 400g of raw rice. This Prestige rice cooker is the perfect choice for bachelors or singles.
Moreover, Prestige provides a 5 years warranty on the heating plate and machine. The detachable power cord enables you to carry the appliance easily and shift its place without hassling with too many cords. Additionally, you can also use this rice cooker to serve as well. The rice cooker features a durable double-wall strong body that protects the rice cooker's body from any damages or dents.
The close-fit stainless lid of the rice cooker has a steam vent that allows the steam to escape, thereby preventing the overflow of the rice and lathering.
5. Panasonic SR-WA18H(E) 4.4L Rice Cooker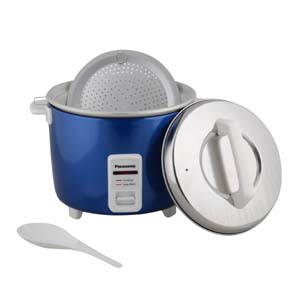 Panasonic SR WA18H rice cooker is equipped with all the features and specifications that make it one of the best buys of 2023. This rice cooker takes only twenty minutes to prepare rice. Moreover, it has a sturdy stainless steel body coupled with a high-quality CRCA food-grade body that accounts for the product's longevity. Moreover, the stainless steel material is an anti-corrosive agent that allows you to maintain the rice cooker easily. 
The metallic blue color of the rice cooker's body imparts a premium look that is sure to increase the aesthetics of your kitchen. It has a capacity of 1.8 liters, making it an ideal option for an Indian nuclear family.
This rice cooker consumes only 700 watts of energy and cooks rice in a short period. Panasonic provides a five-year warranty on the heater and a two-year warranty on the product against any manufacturing damages.
6. Pigeon Joy 1.8 Litre Electric Rice Cooker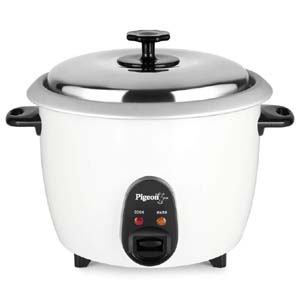 With a capacity of 1.8 liters, this rice cooker by Pigeon is one of the best choices that you can buy to meet your cooking requirements. The 1.8 liters capacity makes it an ideal option for a family of 4 to 5 members.
It is equipped with a high-quality aluminum cooking plate that accounts for uniform heating in less duration. Moreover, the Pigeon rice cooker comes with an extra cooking pot that accounts for convenient usage. The two indicators provided in the front body of the rice cooker facilitate hassle-free monitoring. The two indicators are cook and warm, which automatically shift. The food contents in the rice cooker remain warm for up to five hours which adds to its innumerable benefits.
The high-grade stainless steel lid prevents the spilling of the contents, thereby keeping your kitchen counter clean. Its sturdy and durable body facilitates easy and hassle-free cleaning.
7. Usha RC10GS1 Steamer Automatic Rice Cooker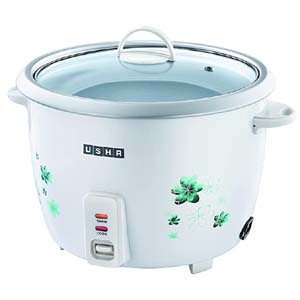 If you are looking for a stylish and elegant rice cooker, this USHA model is the perfect choice that you can opt for without any second thoughts. The white color and floral prints on the body give it an elegant look, making it a perfect addition to the modern kitchen.
This electric rice cooker comes with a transparent break-resistant tough glass lid that provides better heat retention and brings the perfect texture to your dishes. The heavy glass lid eliminates the irritating rattling noise emitted while the food gets cooked. The easy control panel and a one-touch operation allow easy and convenient usage.
The inner bowl of the rice cooker features a water level indicator. The auto cut-off thermostat technology used in this rice cooker prevents the food from overcooking. The in-built keep warm feature ensures that the food remains warm for a longer duration at a constant temperature.
8. Bajaj RCX 5 1.8L Rice Cooker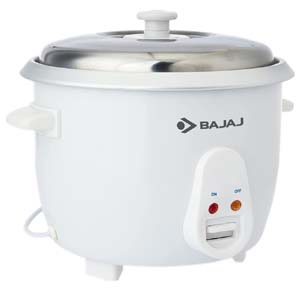 Bajaj is yet another famous appliance brand in India with an extensive audience reach. For years, the brand has proved its worth and trustworthiness by providing the Indian market with high-quality products. The Bajaj RCX rice cooker, which is one of the latest additions, consists of all the latest specifications.
The operation of this rice cooker requires a minimum power input of 230 volts and minimum power consumption of 550 watts. The energy-saving feature of the rice cooker helps to save on the huge electricity bill.
Moreover, the rice cooker features a steel lid bearing and a steam vent that allows the proper release of steam. The brand provides a one year warranty against all manufacturing defects. The aluminum plate equipped in the rice cooker heats up faster and facilitates faster cooking. With a capacity of 1.8 liters, the rice cooker is an excellent choice in making various exotic dishes in a less time frame.
9. Prestige PRWO Delight Electric Rice Cooker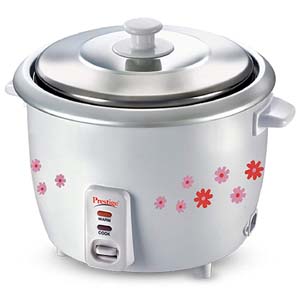 When it comes to buying kitchen appliances, Prestige is one of the most famous brands whose products are unbeatable in the market. This rice cooker comes with a five-year warranty on the heating plate and a one-year warranty on the product. Suitable for a medium-sized family of 3-5 members, this rice cooker by Prestige features an auto cut-off and auto cooking mode that prevents over-cooking or under-cooking.
To ensure that you do not burn your fingers, the rice cookers are equipped with cool-touch handles that allow you to carry the rice cooker even while it is warm. Today's tight schedule and hectic lifestyle often leave us with limited time. The auto-cook feature of this rice cooker eases everyday life to a great extent. You need to put the required amount of rice and water, switch it on, and leave the rest on the rice cooker.
10. Wonderchef Prato 1L Electric Rice Cooker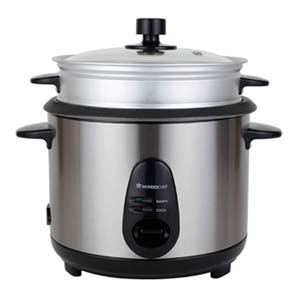 Wonderchef is one of the famous brands in India which excels in producing high-quality kitchen products and appliances equipped with the latest features and specifications. The body of this Wonderchef rice cooker is made of high-quality stainless steel that accounts for the product's durability.
Moreover, the smooth stainless steel body makes it easier to clean without worrying about scratch or damage. The primary advantage of this rice cooker is its two inner non-stick pots that allow you to cook rice along with various other tasks such as boiling vegetables or eggs in one session. You can also use the upper non-stick pan to make momos, modaks, or boil the chicken.
It comes with an extra thermostat that protects the heating plate and the motor from damage. This electric rice cooker is equipped with a single button function that facilitates cook, warm, and steam options for convenient usage.
How to choose a rice cooker? (Buying Guide)
Since their inception, electric rice cookers have been relatively high in demand in the Indian market due to their various benefits. The electric rice cookers are packed with several latest features that account for their more excellent usability. Before you set out to buy the best rice cooker, it is essential to consider essential factors that will enable you to make the right choice.
Capacity
Before buying a rice cooker, the main thing to consider is its capacity. The rice cookers come in various capacities, and unlike other kitchen appliances, they require small storage space. The capacity of a rice cooker is measured by the amount of water and rice that it can hold. If you are a small family of 5 to 6 people, it is advisable to opt for a 2 or 3 liters rice cooker. But if you live in a joint family, it is best to opt for one with a larger capacity.
Weight
Rice cooker is a portable product, and hence its weight is an essential criterion to consider before buying one. After the contents get cooked, it is pretty apparent that you will need to carry it for serving. Therefore it is wise to get a lightweight one that facilitates easy handling.
Body material
The material used in the body of the rice cooker is a crucial factor to consider since it accounts for the durability of the product. The rice cookers are made primarily of stainless steel and high-quality plastic. It is best to get one with a stainless steel body since they are anti-corrosive and durable.
Easy to clean
One primary task that follows the cooking process is the cleaning task. You must consider buying a rice cooker featuring a simple and ergonomic design that will enable an easy cleaning process.
Handle Quality
After the cooking gets done, you need to remove and carry it by its handle. Therefore the handle must be sturdy and have a cool-touch feature that will enable you to carry it by the handle without damaging your fingers.
Easy to use
Another major thing to consider while buying a rice cooker is easy usage. Consider getting a rice cooker that features a digital timer and auto-cooking button. It will reduce both your time and effort. Moreover, it is essential to consider that the rice cooker features all user-friendly controls.
Power Consumption
While using any kitchen appliance, the primary thing that is a matter of concern is the huge electricity bill. The same concern applies to the usage of a rice cooker as well. Even though all rice cookers consume less energy, it is best to look into their power consumption capacity, which will allow you to choose the best one accordingly.
Warranty
An electric appliance can result in a breakdown at a point. Moreover, certain manufacturing defects exist in some models that can malfunction. A warranty on the product will enable you to get a replacement in such cases. Therefore it is imperative to look into the warranty of a rice cooker before buying it. Additionally, the longer the warranty period, the merrier.
Benefits of using a rice cooker
A rice cooker is a great kitchen appliance that simplifies cooking. It does not matter what variety of rice you cook in the electric rice cooker; it is always cooked to perfection. Below-mentioned are some of the benefits of using a rice cooker that make it worth buying.
Automatic functioning- One of the significant benefits of using a rice cooker is that it does not require any manual intervention. All you need to do is pull down the button, and the rice cooker shuts off automatically after the rice gets cooked completely.
Keeps rice warm for a longer duration- Nothing is more satisfying than savoring hot steaming rice. And with the rice cookers, this is not a distant dream anymore. The latest technology imbibed in the rice cookers keeps the contents warm for 5 to 6 hours.
Freedom from sticky rice- Cooking rice in pots on gas or through traditional methods often leaves the rice sticky. It is a significant issue while cooking exotic dishes such as biryani or pulao. The Rice cooker cooks the rice in such a way that each grain gets separated from the other, providing it with a non-sticky texture.
Uniform cooking- While cooking on a stove or gas, even on low heat, there remains quite an amount of uncooked rice at the bottom. However, with rice cookers at the convenience, this is not an issue anymore. The aluminum heating plate at the rice cooker's base ensures uniform spreading of heat that provides uniform cooking.
Numerous programmable settings- Another significant benefit associated with the usage of a rice cooker are its numerous programmable settings that allow you to cook various types of lentils and grains. Moreover, the various programmable settings also reduce cooking duration and effort.
Facilitates preparation of various meals – A rice cooker aids in the efficient cooking of rice and enables you to prepare various other meals. Certain rice cooker brands come with various accessories, such as an extra non-stick pan and steamer that allow you to boil vegetables and eggs while cooking rice.
Safety tips while using a rice cooker
Rice cookers are a piece of ideal, no-fail equipment that results in a hassle-free cooking experience. The operation of a rice cooker involves electricity and heat, and therefore it is of crucial importance that you must handle it properly to avoid any accidents. Below-mentioned are some safety tips that must be strictly adhered to while using a rice cooker.
While buying a rice cooker, you must always prefer a reputable and trustworthy dealer who sells genuine and original products.
Before you embark upon using a rice cooker, you must thoroughly go through the instruction manual provided with the product.
Never forget to register your new rice cooker with the manufacturer. It will enable the dealer to contact you if a safety recall is necessitated easily.
You must always handle the rice cooker with the cool-touch handles or knobs attached to the body since these are adequately insulated, eliminating the risk of burning your fingers.
Before cleaning the rice cooker, unplug it from the main point. Let it cool down completely before opening or touching it.
While using a rice cooker, place it properly on a flat or stable surface
While removing the upper lid of the rice cooker, you must be cautious of the steam that suddenly escapes from the appliance
Do not leave the electric cord hanging down; always remove it before storing it away
Never immerse the cooker or plug directly in any cleaning solution or water since it can result in further severe damages.
Wrap up
We hope you now easily purchase the best rice cooker for your kitchen from our curated list of best rice cookers in India. These rice cookers mentioned in the list feature the latest technology and specifications for their durability and effectiveness.
Before buying a rice cooker, it is imperative to have thorough knowledge about the various benefits provided by the rice cooker.
Moreover, you must also look into the essential factors before purchasing a cooker to help you make the right choice that suits your requirements and budget. Some essential factors include weight, warranty period, capacity, handle quality, and power consumption. To ensure that you do not face any accidents while using the rice cooker, following certain essential safety precautions is imperative.