Returning home to long power cuts can be pretty irritating. Moreover, certain areas are prone to long and frequent power cuts with low voltages. The one-stop solution to this problem is the inverter batteries. This gift of technology has proved to be of great use and excellence.
With the growing demand and need for inverter batteries, the market these days is packed with various brands and types. It has made choosing an inverter battery quite challenging.
Moreover, buying an inverter battery is a long-term decision; hence, it is crucial to use your discretion carefully. To let you make a wise decision, we have prepared a list of the best inverter battery 150 Ah that is worth purchasing. This article also features a buying guide that will enable you to choose the apt best inverter battery wisely.
Top Picks of The Best Inverter Battery 150ah in India 2023
Below is the list of best inverter battery 150ah in India based on their battery type, brand, warranty, size and weight.
1. Luminous Red Charge RC 18000 150 Ah
Luminous is one of the famous brands trusted by the majority in electrical appliances. The luminous inverter batteries boast high efficiency, powerful performance, and extended durability. And the luminous red charge RC 1800 inverter battery is no exception to this fact.
It features a product dimension of 23 cm in height, 32 cm in width, and 52 cm in length. One of the primary benefits of this inverter battery is its six-level water level indicator. The water level indicator enables you to keep an eye on the water level and refill it when it reaches the minimum level.
The luminous RC 1800 inverter battery offers long backup performance and relief during long power cuts. It can provide a hassle-free running load for one fridge, three fans, two tube lights, one led bulb, and a led tv of 40 inches. Moreover, this inverter battery comes with three years of manufacturer's warranty, which is a significant additional benefit.
Pros
Excellent battery backup
Suitable for heavy loads
2. Microtek EB1900 Tubular Inverter Battery
If you are looking for the best inverter battery that offers excellent efficiency at an affordable price range, then you can opt for the Microtek EB 1900 inverter battery. The Microtek inverter battery offers great backup during long power cuts.
The brand offers three years warranty on the inverter battery, enabling you to remain worry-free in case of any manufacturing defect. The quick recharge formulation ensures that the inverter battery gets charged quickly after a power cut session.
It has strong and sturdy handles on both sides, which lets you carry the inverter battery easily. The Microtek EB 1900 inverter battery comes with dimensions of 40 cm in height, 45 cm in length, and 60 cm in width. This inverter battery is produced with the latest hybrid technology that can withstand high temperatures.
Pros
It comes with sturdy handles
Value for money
3. Livguard Invertuff IT 1554TT Inverter Battery
The Livguard Invertuff inverter battery is built with a high electrolyte volume and superior plate grid design. With every single usage, the Livguard inverter battery offers enhanced performance.
It has a high capacity of 150 Ah, which delivers an uninterrupted electric power supply for long hours without any issues. This lifeguard inverter battery features tall tubular technology that accounts for the product's long life. Moreover, the tubular design facilitates fewer water tops-ups.
A significant benefit of this inverter battery is the extended 54 months warranty. This inverter battery by Livguard is an ideal choice for areas that face long power cuts. It offers ample power to all your gadgets and equipment, accounting for their excellent usage.
Pros
It is built for heavy duty
It Requires low maintenance
Cons
The backup time is not that impressive
4. Luminous RedCharge RC 18000 ST 150AH
Another best inverter battery with 150 Ah capacity is the Luminous RC 18000 ST inverter battery. This high-performance battery is built thoughtfully for constant power. This inverter battery can offer a running load for one refrigerator, led tube light, a fan, and a 40 inches TV.
It provides faster recharge, ensuring hassle-free long running time during more extended power surges. To ensure the safety of the inverter battery, it is equipped with excellent overcharge protection. This feature also ensures the longevity of the product. It has a rugged body construction that further accounts for its sturdy and robust nature.
The six-level water indicator enables you to top it up with water when the water level drastically reaches down. One of the best things about this luminous inverter battery is that it is incredibly user-friendly and easy to maintain.
Pros
Advanced tabular plate technology
Maximum overcharge technology
Cons
It is comparatively expensive
5. Exide's It 500 150 Ah Tall Tubular Battery
Another top-rated inverter battery that you can buy without any second thought is the ExideS 500-tall tubular battery. This next-generation inverter battery is designed to withstand long and frequent power cuts. This inverter battery by Exide is specially built with thick tubular plates that offer a long battery backup.
It is made using the most spectacular and advanced Torr Tubular technology, making it an ideal choice for Home UPS and all other inverter applications. It has a rugged internal element which is required for frequent and prolonged power cuts. The thick tubular plates ensure long life, while inter-cell partition connections offer a better voltage profile.
It results in a continuous backup during long load shedding. The ExideS 500 is a lead storage battery that offers regulated power during a low input voltage. This inverter battery by Exide consists of superior quality materials such as arsenic, selenium, tin, and copper, which makes it anti-corrosive.
Pros
It offers easy and fast charging
Less water loss
Cons
This inverter battery is a bit fragile
Buying Guide For Best Inverter Battery 150ah
When buying the best inverter battery, 150 Ah, there are certain essential factors to consider, as mentioned below.
Battery type: One of the first and foremost factors to consider while buying the best inverter battery is the battery type. In terms of typology, there are two main types of inverter batteries: flat plate and tubular. The flat plate battery is the most common type that features a basic construction.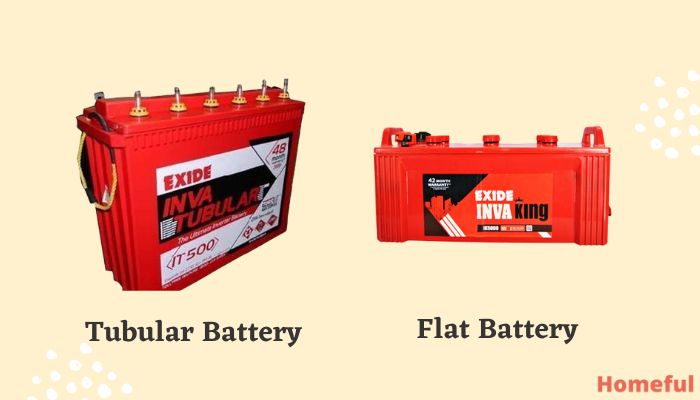 The primary benefit of the flat plate battery type is its affordable price range. The tubular battery type is the most advanced and is suitable for areas facing long and frequent power cuts. The tubular inverter battery requires fewer water toppings than the flat plate battery. The tubular batteries offer various advantages, such as longer backups and a more extended warranty.
Warranty: Warranty is another major factor that should not be missed while buying an inverter battery. A warranty on the product will enable you to claim free replacements in case of any defect during the stipulated time frame. Getting an inverter battery with at least three years of warranty is always advisable.
Brand: Due to the massive demand for inverter batteries, various brands offer their best models. It is, therefore, essential to consider the brand while getting an inverter battery.
Size and weight: After you have successfully zeroed down on the battery type, warranty, and brand, you must now pay close attention to the size and weight of the inverter battery. Look for an inverter battery that features a compact size and lightweight.
Inverter capacity: The capacity of an inverter is measured in Voltage Ampere (VA). It is always better to opt for an inverter having at least a capacity of 600 VA.
Best Inverter Battery 150ah FAQs
How many hours a 150 ah battery will last?
You can expect a 150 Ah inverter battery to run approximately for five to six hours, provided it runs on a load of 300 watts per hour.
Is a 150 Ah battery sufficient for the home?
Yes, a 150 Ah battery can power your home appliances during power cuts. An inverter battery with 150 Ah capacity will load all essential home appliances such as refrigerators, tube lights, TV, and fans. 
What is the weight of a 150 ah battery?
Ideally, the weight of a 150 Ah battery will be approximately 43 kg. The light weight of a 150 Ah capacity inverter battery lets you transport it easily.
Conclusion
From our above discussion, you can now easily purchase the best inverter battery with 150 Ah capacity without any issue. The models mentioned above are the best inverter battery, 150 Ah, which features the perfect amalgamation of advanced technology, robust build, and excellent durability.
To make your purchase easier and hassle-free, this article also talks about a brief buying guide. The buying guide consists of all the essential factors one must consider while buying the best inverter battery. Moreover, we have also addressed some frequently asked questions to answer further all your queries regarding a 150 Ah inverter battery.