If you have been looking for advanced cooking devices, then an Induction cooktop is what you should choose. Why? They are effortless to use, and they also make the cooking process very efficient and easy, but that's not all. Induction cooktops don't cause any pollution.
So, if you have been looking for such devices, this post will help you choose the right one for your home and make your cooking effortless and smooth. Here are a few options to choose from.
Best Induction Cooktop in India
Here are our top picks for the best induction cooktop in India 2023
1. Philips Viva Collection HD4928/01
The Philips Viva collection is one of the best induction cooktops available now. It has a sleek design and a hefty glass panel that will help you cook without any hassle. Besides that, it also has electromagnetic induction technology that will help you cook food with ease compared to gas stoves.
The power consumption of this device is 2100 watts, and thus this makes it environment friendly. The cooktop has 10 preset menus that have been customized explicitly for Indian recipes, and it also has 0-3 hours of time settings. This device has all the sensor keys and also a year's warranty.
Specifications
Overall rating – 4.2/5
2. Prestige PIC 20
The Prestige PIC 20 is a portable cooktop that you can use anywhere. It has automatic power and temperature adjustments for different foods. Also, it has different presets that will help you prepare authentic Indian dishes just at the touch of a button. The cooking process is flame-free and thus makes it very safe to use and dramatically reduces the chances of any pollution.
The cleaning process is very easy as well due to the surface being flat and smooth. The product weighs around 2.2 kg and has a wattage of 1600 watts.
Specifications
Overall rating – 4.1/5
3. Usha Cook Joy (3616) Induction Cooktop (Black)
Usha Cook Joy is one of the top induction cooktops that you can get for your kitchen. It enables flameless and safe cooking by heating the part of the cookware that is in contact with the cooktop. This way, it reduces the amount of energy loss during cooking and makes your cooking experience fast and smooth.
It comes with manual control, and along with that, it also has 5 Indian menus presets. The device also has a built-in timer and is programmable for up to 180 minutes, along with auto-shutdown and pause functions. It also has pan sensor technology that stops the power supply automatically when an incompatible vessel is placed on it.
Specifications
Overall rating – 4.2/5
4. Prestige PIC 15.0+ Induction Cooktop (Black)
The Prestige PIC 15.0+ induction cooktop is a great cooking companion and will allow you to cook your favourite food with ease. The cooktop comes with concealed feather touch buttons that prevent the entry of water into the device. It comes with a timer button that can be controlled using the plus/minus button, and for the convenience of the user, they have also added a pause button.
The device also has an Indian menu option that can help you make authentic Indian food just with the touch of a button. The anti-magnetic walls present in the cooktop ensure that the device only heats the part of the cookware touching the device. The operating voltage of the device is 230 volts, and it has a power wattage of 1900 watts.
Specifications
Overall rating – 4.2/5
5. iBELL Hold The World
The iBELL Hold is a one-of-a-kind cooktop that comes with high-quality crystal glass and press button control. It has auto-shutoff safety protection that turns off the cooktop automatically and also provides overheat protection. This device has super-wide voltage adaptability and also comes with multifunctions.
The iBell cooktop provides users with a 1-year standard warranty and an additional year of free registration. The product weighs around 1.8 kg and has a power wattage of 2000 watts.
Specifications
Overall rating – 4.1/5
6. Philips Viva Collection HD4938/01 Induction Cooktop
Another great option on this list is the Philips Viva Collection HD4938/01. This device comes with 10 preset menus for multiple Indian recipes and a 24-hour timer function for delayed cooking. The sensor touch keys make it easier to use, and the auto-off program makes cooking very safe and secure.
The glass panel provided at the top makes sure that the loss of energy is minimal as it only heats the part of the cookware attached to the cooktop. The operating voltage of the cooktop is around 240 volts, and it has a power wattage of up to 2100 watts.
Specifications
Overall rating – 4.3/5
7. AmazonBasics Induction Cooktop
The AmazonBasics induction cooktop could be a great addition to your kitchen because it is easy to use and clean. The flat micro-induction glass surface comes with an LED display and push-button control that makes it easy to choose from the proper stages of power settings.
The cooktop also comes with 6 presets of Indian menu options and a timer for up to 3 hours. The cooktop also has an auto-standby safety feature which gets activated when a pan is not kept on the cooktop.
Specifications
Overall rating – 4.1/5
8. Havells Alloy Steel Insta Cook PT
Havells is probably one of the best companies out there when it comes to devices for the kitchen. This device comes with a LED display that helps you in selecting the menus without any hassle. It has 6 different modes dedicated to Indian menus and variable temperature settings with auto on/off.
The flat glass surface of the cooktop makes it very easy to clean, and due to its lightweight, you can place it on any surface with ease. You can even set a timer for up to 3 hrs in case you plan on multitasking.
Specifications
Overall rating – 4.2/5
9. Bajaj Majesty ICX 7 Induction Cooktop
The Bajaj Majesty ICX 7 induction cooktop is an excellent option for any kitchen as it helps in cooking food with ease. It has 8 preset menus and these presets are great for dishes that require the same pattern of cooking, which significantly saves your time and energy.
It is very easy to use, and it has an elegant design made out of glass, which makes it very easy to clean and maintain. A Tact-Switch is present on this cooktop, making it very easy to control and customize the time for different dishes.
Specifications
Overall rating – 4.2/5
10. Pigeon Acer Plus Induction Cooktop
If you are looking for something that is elegant and puts less pressure on your wallet, then this is what you should choose. Pigeon Acer Plus has all the qualities and facilities of a great induction cooktop. It saves around 35% of your energy when compared to LPG gas. This cooktop has 8 menus installed and comes with a preset timer with an auto switch (off/on).
The intelligent timer and LED display for temperature indication make it a better choice than most induction cooktops.
Specifications
Overall rating – 3.7/5
11. Wonderchef Power Induction Cooktop
WonderChef cooktop is another great option if you are looking for something cheap. This cooktop has programmed features that are solely made for Indian cooking with 11 preset functions. It has a sleek and stylish design that adds to the beauty of your kitchen.
It also has precise control and enhanced energy efficiency. The temperature settings range from 50-270 celsius.
Specifications
Overall rating – 3.8/5
Things To Consider Before Buying Induction Cooktop In India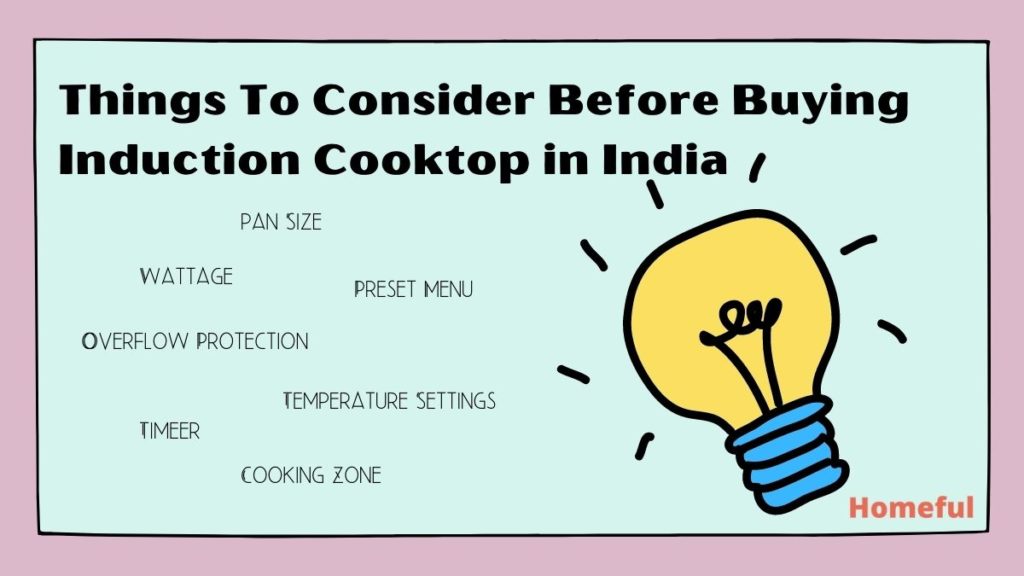 Wattage
The wattage of a cooktop determines how fast it can cook. The more power the cooktop, the faster it cooks. A cooktop that is around 2000 watts would be a great addition to your kitchen.
Pan Size
It is very crucial to choose a cooktop that can easily match the size of any pan. If the size of the pan is small, the cooktop won't be able to detect the pan, and it won't heat the pan. So checking the coil size of a cooktop is very necessary before purchasing.
Preset Menu
Presets are essential for cooktops as different food items need a different pattern of heating. So make sure to check the presets before purchasing a cooktop and make sure the buttons are not too close to the heating area.
Overflow Protection
It might be the most crucial point to take notice of while purchasing induction cooktops. Cooktops must have this feature as spillage while boiling liquids may spoil your device.
Temperature Settings
The temperature settings in most devices are denoted by watts. If the whole temperature range is provided on the cooktop itself, it becomes easy for the user to change the temperature by pressing the "Plus" sign.
Timer
Having a timer setting is very necessary as this lets you set a time for the dish you are making. So, if the dish needs more time to cook, you can set the timer and do other work.
Cooking Zones
Most cooktops that are available these days come with one zone. It is perfect for families that have 2-3 members. But if you have a big family (of more than 4 members), it would be good to choose a cooktop with multiple zones.
Safety Features
These features are necessary as they ensure that your food doesn't get burnt when you are doing other work while cooking on a timer. It also ensures that the cooktop doesn't spend unnecessary energy when a pan or cookware is not placed over it.
Advantages Of Induction Cooktops
Environment friendliness is one of the biggest reasons why one should choose them. You can cook quite efficiently in your kitchen hassle-free.
The surface of all cooktops is flat and smooth, and it becomes effortless to keep them clean.
Gas stoves take quite a lot of time to cook your food, but cooktops can make cooking very fast and efficient.
Disadvantages Of Induction Cooktops
Increasing the heat levels of a cooktop can create a lot of noise. It solely depends on the weight of the cooktop.
Without electricity, you cannot prepare food on the cooktop
Sometimes detecting Indian cookware becomes difficult for the cooktops.