When you are an avid gamer or music lover, you know that the quality of the sound you can listen to is directly related to the quality of your headphones. If you are an audiophile, you should consider purchasing premium-quality headphones.
It is because there is an unbelievable difference between the sound reproduced by regular headphones and premium headphones.
There are unlimited premium headphones available from the most popular headphone brands. We have handpicked the best headphone under 5000 INR for your consideration.
These Are The Best Headphones Under 5000 in India You Can Buy
1. Audio-Technica Ath-M20X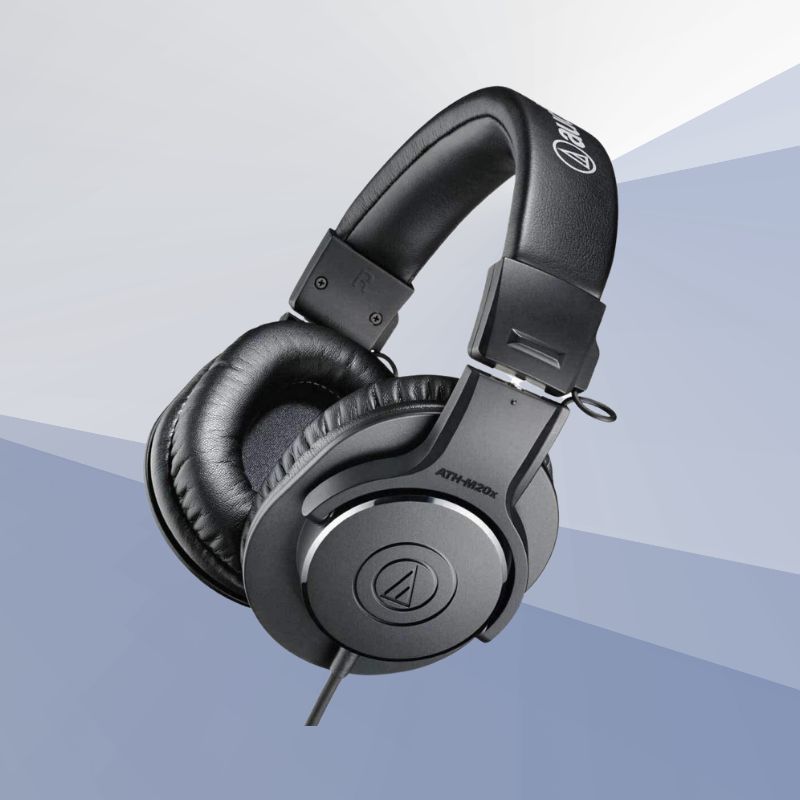 Audio-Technica is a premium Chinese headphone brand focusing on manufacturing high-end headphones. Audio-Technica Ath-M20X headphone is the best-selling and highest-rated headphones from the brand.
The headphone comes with an ergonomic over-the-ear design for perfect fitting. It is also extremely lightweight, with only 190g of weight, and you can put it on for hours without feeling any heaviness.
The headphone comes with 40mm high-fidelity drivers that produce outstanding audio quality. It is an ideal headphone to use in studios as well. The wired headphone has a 3.5mm jack connector. The sensitivity of the headphones stands at 96dB, which is quite high; hence, you can enjoy loud music with full clarity.
The maximum input power stands at 700mW, which means it can withstand decent loudness though it could have been higher. The impedance stands at 47 ohms which is decent though it could have been lower for better efficiency.
Coming to its construction, the overall design is quite eye-catching thanks to the glossy black set against the matte finish. The vinyl-covered earpads are comfortable, and so is the headband.
The only negative point about the headphone is that it does not come with a mic. A mic would have made the headphone perfect for gamers, but audiophiles love the product anyway.
Another weak point is that it is not collapsible. The company offers 3 years of warranty on the product against any manufacturing defect.
Like
The audio quality is great for all types of sounds.
The headband and earpads are comfortable.
High sensitivity makes it suitable for loud music.
Didn't Like
There is no mic available.
The bass is not very high.
The impedance could have been lower.
2. RORSOU R10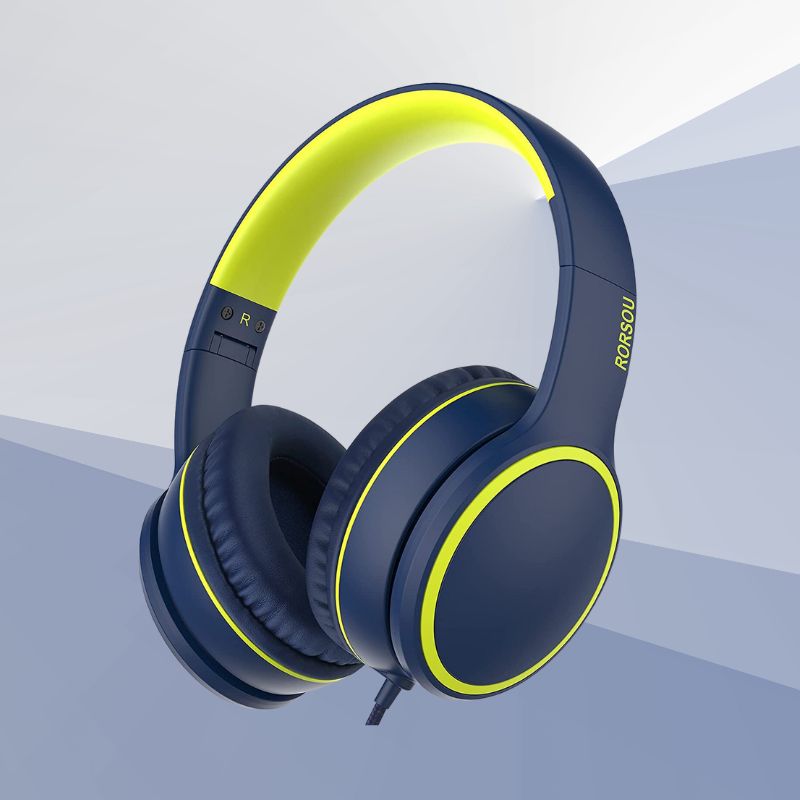 RORSOU is a relatively new brand, but it has gained traction from audiophiles with its stylish range of headphones. When purchasing a premium headphone, you expect it to stand out in quality and design.
This on-ear headphone has an eye-catching, colourful design perfectly suitable for you. It is a wired headphone with a 3.5mm audio jack, and you get an integrated HD mic with the headphone.
The headphone has the standard 40mm audio driver, capable of producing high-fidelity stereo sound. The bass is rich and deep, and you get full dynamic range.
Coming to the comfort factor, the breathable earcups and the headband are well-cushioned and extremely soft so you can put them on for hours without irritation. The headphone weighs around 281g which is quite standard for premium headphones.
You can adjust the headphone size with the slider for a perfect fit. The headphone is foldable for easy storage. It has superior plastic construction for sturdiness, and you get a standard 1.5 braided cord not to get tangled.
Some in-line controls are available so that you can make calls and move through tracks when you are playing them. The headphone is compatible with a wide range of devices that support a 3.5mm audio jack.
Like
Colorful and eye-catching design.
Well-padded for ultimate comfort.
Stretchable and foldable structure.
HD mic and premium braided cord.
Compatible with a wide range of products.
Didn't Like
The sound spreads out and hence, low privacy.
3. iJoy FGE-PRE-STL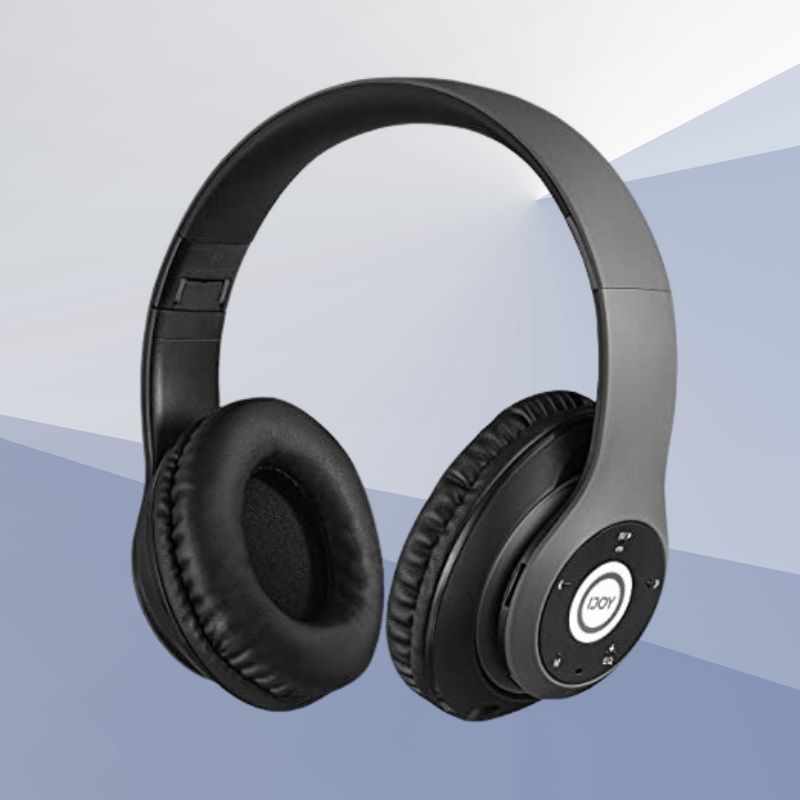 If you are looking for wireless headphones that have received great ratings from genuine users, iJoy premium wireless headphones should be a clear choice.
All the desired features in a wireless headphone are well balanced, and the headphone feels very premium. You get an Aux cable in the package, which means you can also use the headphone in wired mode.
The Bluetooth headphone offers 15 hours of playtime when fully charged. There are 5 functional buttons available for easy operation. You can play and pause audio, answer and hang up calls, move to the previous or next audio track, and adjust the volume.
Besides, an exclusive Equalizer button is available to change the equalizer for better audio quality of different audio tracks.
The headphone is highly comfortable because the earcups and the headphone are well-cushioned. You can fold the headphone instantly and carry them around conveniently.
The earcups can isolate the background noise as they come with an ergonomic noise-cancelling structure. Besides, there is an indicator light available to show the charging status and Bluetooth pairing,
The headphone comes with a built-in SD card and radio receiver. Therefore, you can use the headphone in a standalone mode, playing songs from the SD card or listening to your favourite radio station.
The headphone weighs around 231g which is quite comfortable. The company offers a six-month exchange warranty in case the headphone breaks and gets damaged.
Like
Exclusive Equalizer button for better sound quality.
SD card and radio receiver are bonuses.
Foldable structure for easy portability and storage.
Eliminates background noise effectively.
Didn't Like
The bass is not great.
It does not snug fit well.
4. YAMAHA HPH-100B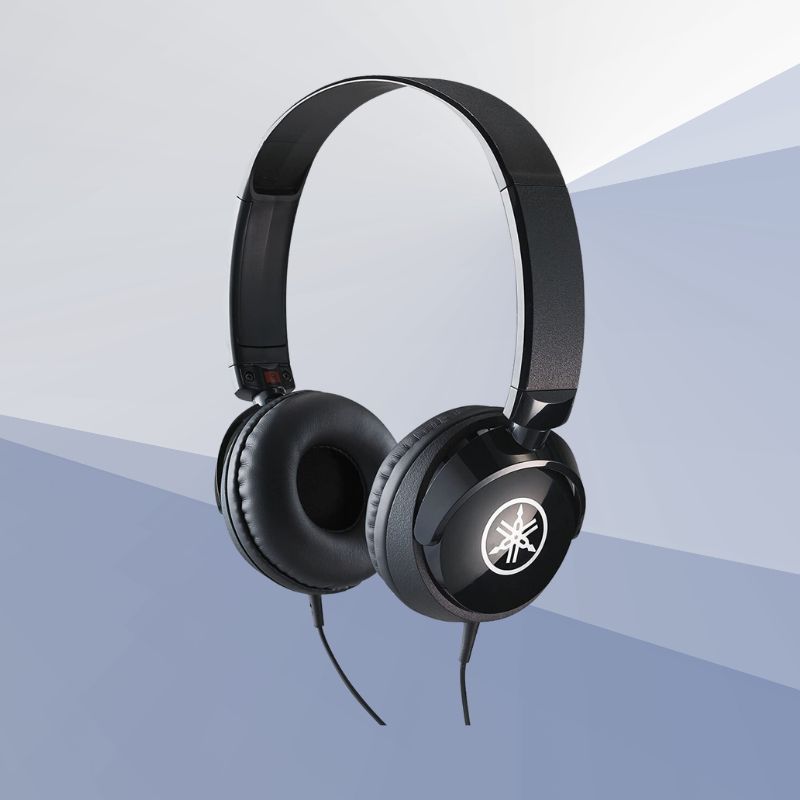 YAMAHA is a reputed brand in the premium headphone segment, and this is the best YAHAMA headphones under 5000 INR. It is an over-the-ear, wired headphone that comes with an HD mic. The cable is detachable for easy portability. It is extremely lightweight, with only 180g of weight.
The headphone delivers superior sound quality maintaining a perfect balance between bass and treble. It has a dynamic sound range, and the audio clarity is outstanding.
It comes with an additional 6.3mm adaptor to connect the headphone to musical instruments and listen to your playback. The headphone is capable of producing rich stereo sound.
The headphone has a 90-degree swivel mechanism for comfortable fitting, and you can also adjust the headband length as per your requirements.
Thanks to its snug fit and lightweight, you can wear the headphones for hours without any stress. The earcups are thick padding, so it is suitable for those with spectacles.
The headphone has a single connecting cable that does not tangle and create a mess. The length of the cable is around 2 meters which is longer than the standard length.
The plug has gold plating for superior performance and durability. The maximum input power stands at 1000mW, and hence, it is suitable for loud audio.
Like
Superior audio quality for different audio ranges.
Longer cable and higher maximum input power.
Compatible with music instruments with a 6.3mm adaptor.
Extremely lightweight for a stress-free experience.
Didn't Like
The impedance is slightly higher.
The headphone is not foldable.
5.OneOdio Pro C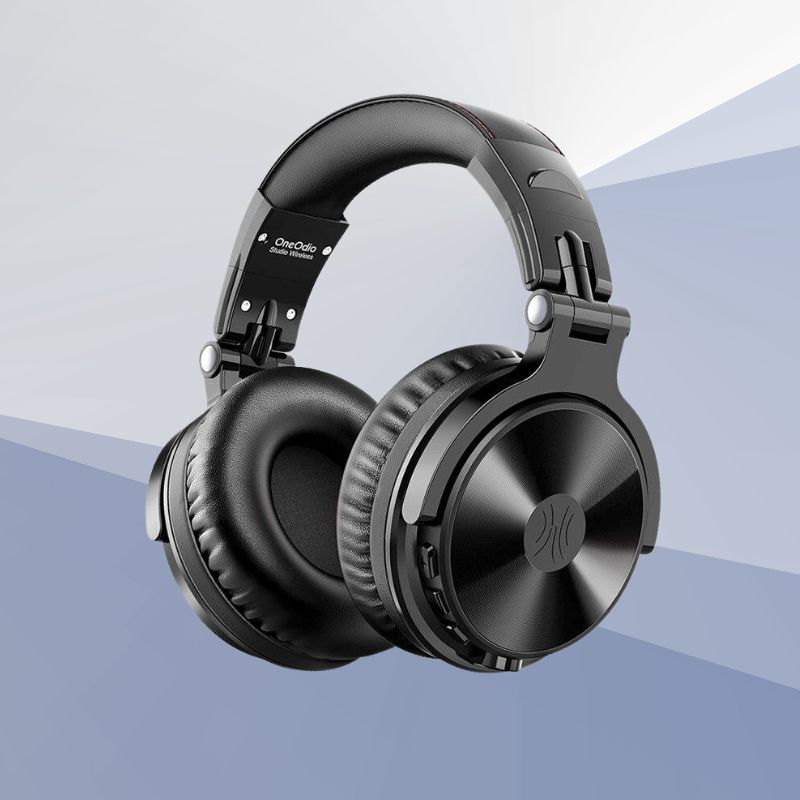 OneOdio is a specialized headphone brand with a broad category of premium headphones. It is the best headphone from the brand in terms of features and ratings.
You can use the headphone in wired as well as wireless mode. The headphone has 50mm HD audio drivers, which produce superior stereo sound and powerful bass. The clarity of the sound is outstanding.
The strongest point of the headphone is that it provides around 110 hours of playtime on a single charge, unmatched by any premium headphone. When there is no charge in the battery, you can still enjoy it in wired mode.
The ergonomic design of the headphone provides ultimate comfort. The headphone is also foldable, so you can carry and store them easily. There are several in-line controls to control tracks and switch between them.
The skin-friend leather, along with soft memory cotton, ensures you can put it on for hours without pain. You can rotate the earcups up to 90 degrees and flip them to 180 degrees per your requirements.
The only drawback is that the headphone is rather heavy, with 400g of weight. The headphone is compatible with a wide range of devices thanks to Bluetooth and a 3.5mm audio jack connection.
Like
It has the longest playtime with a full charge.
It is only in wired and wireless mode.
Superior audio drivers for outstanding quality.
Premium design and ultimate comfort.
Didn't Like
The headphone is quite heavy.
The earcups are relatively small.
6. Sennheiser HD 400s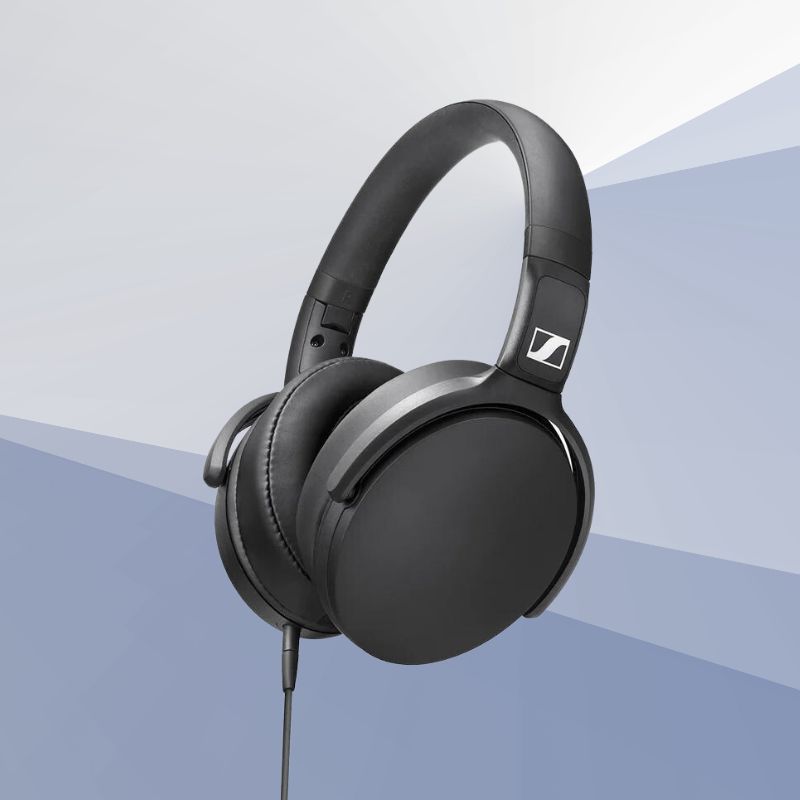 Sennheiser is a popular Chinese headphone brand that produces high-end headphones. It is a wired headphone with a mic that has high-quality audio. The headphone has a premium look and feels with big earcups for ultimate comfort. It also reduces the background noise for better clarity of audio.
The headphone is a minimal impedance of 18ohms only for better sound reproduction. Other specifications, such as frequency response range, are quite standard.
Even though it has plastic material construction, it is quite sturdy and feels very premium. The sound quality is well-balanced in the low, mid and high ranges.
The headphone is rather lightweight, with 217g of weight, and you can fold the headphone for easy portability. Even the cable is detachable so that there is no tangling while carrying the headphone.
The fit is not very snug but quite comfortable. The smart button helps you to go forward and backwards in the playlist.
Like
The sound quality is outstanding.
It manages to eliminate background noise significantly.
The material quality gives a premium feel.
The impedance is the lowest on the list.
Didn't Like
The cable is rather flimsy.
There is no volume control available.
7. Sony Wh-Ch510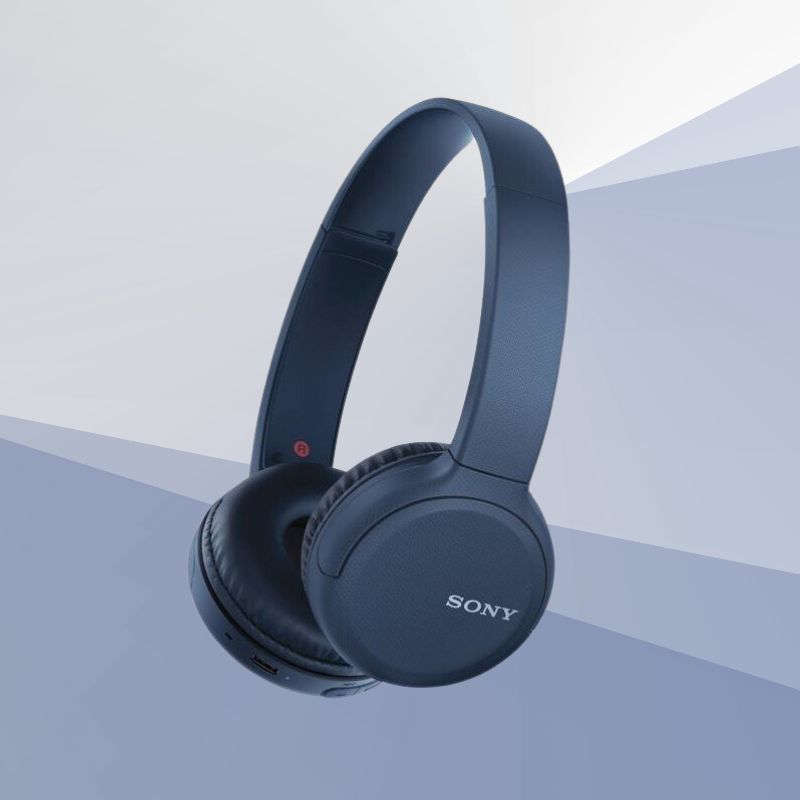 Sony is one of the world's most reputed and premium headphone brands. It is a wireless, on-ear headphone with a premium look and feels. It is the lightest headphone on the list; hence, it is extremely popular among youth who wear it while travelling. The headphone has 35 hours of battery life on a single full charge.
The headphone sports Bluetooth 5.0, which is the latest version, and this ensures high-quality audio transmission. You can use the type-C cable for quick charging and get 90 minutes of runtime with 10 minutes of charging.
The swivel earcups enhance easy portability and storage. There are in-line controls available to play, pause, adjust the volume, and control the playlist. You can adjust the headphone for a snug fit and withstand jerk comfortably.
The omnidirectional mic ensures hands-free calling without distortion. The headphone produces extra bass, and it is compatible with Google Assistant. The maximum operational range is 10 meters which is decent. Overall, the headphone has premium plastic construction with comfortable cushions all around.
Like
The extra bass is suitable for loud music.
Highly portable design and extremely lightweight.
Easy in-line control with voice assistance.
Omnidirectional mic for hands-free calling.
Didn't Like
The audio driver's size could have been higher.
There is no noise cancellation option available.
8. Panasonic RP-HTX80BE-K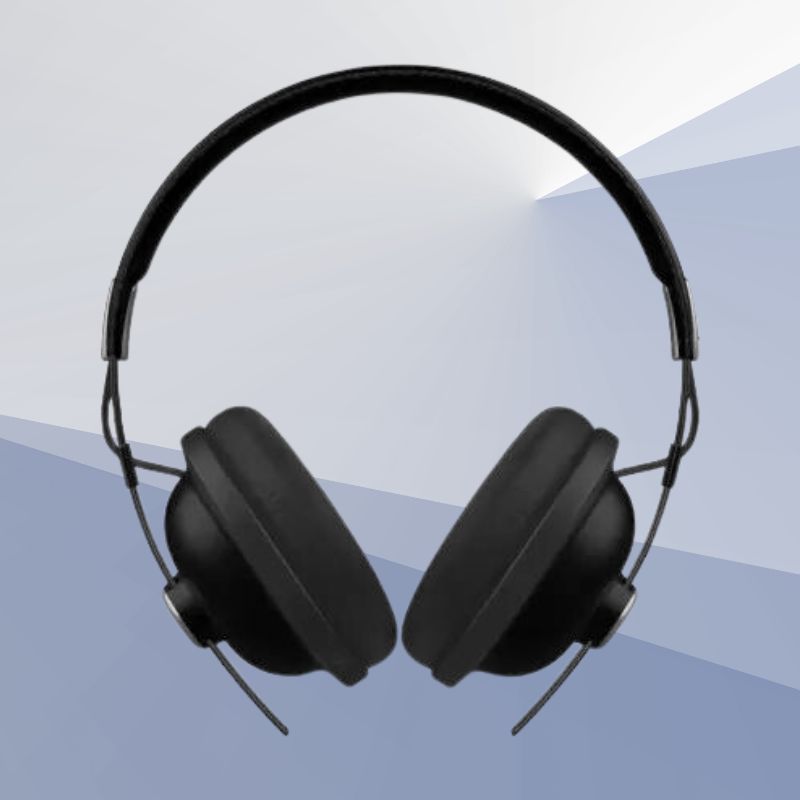 Panasonic is another reputed brand in the electronic gadget segment. Even though it does not have a significant market share in the headphone segment, this particular headphone stands out. It is a wireless, over-ear headphone with a mic and a retro design.
The headphone features a standard 40mm driver, and the bass is quite dynamic for a wide range of audio. The battery life stands at 24 hours, which is decent, and it sports quick charging, a standard feature in wireless headphones. There is a built-in mic for making calls on smartphones.
Coming to the construction, soft pads are available on the earcups, and the headband is sleek. It has a unisex design and matte finish. The headphone weighs around 190g which makes it extremely lightweight.
There are different colours available to choose from as per your preference. Owing to its structure, there will be ample airflow, and hence, there is no sweating issue when you put it on for hours.
Like
The sound quality is outstanding.
The design has a retro feel.
The structure allows enough airflow.
It is lightweight with premium material.
Didn't Like
The battery life could have been better.
The bass is not very high, though dynamic.
9. JBL Tune 710BT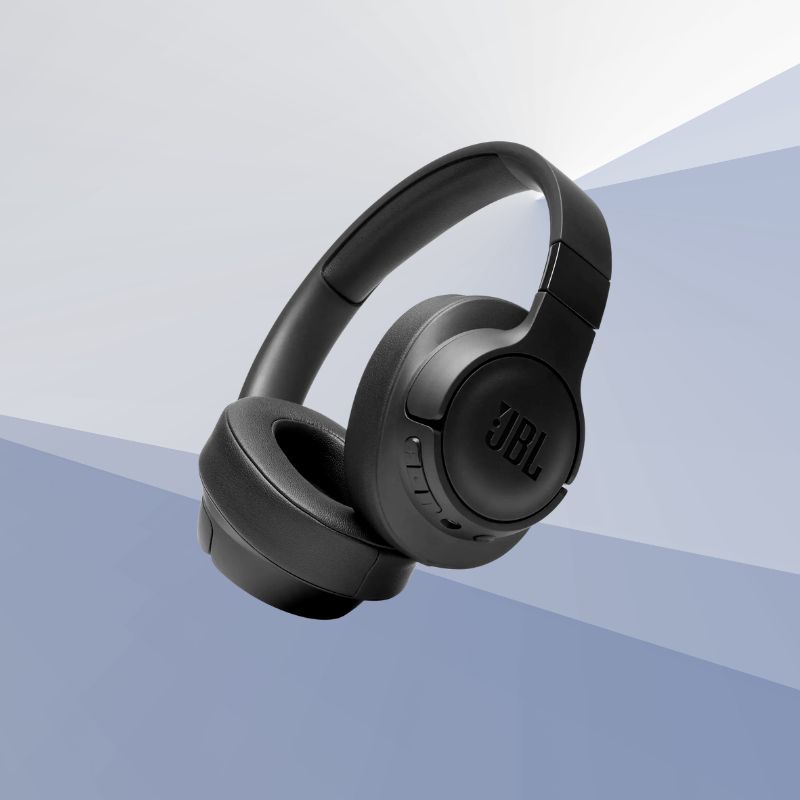 JBL is one of the leading premium headphones, and it is particularly popular among those who prefer high bass and loud music. It is a wireless headphone with a bi-directional mic and sports standard 40mm drivers. The over-ear headphone is suitable if you are looking for deep and powerful bass.
The headphone can run for 50 long hours on a single charge. Thanks to the quick charging feature, you can charge the headphone for 5 minutes and run it for 3 hours. Besides, for wireless connection, the headphone has the latest Bluetooth 5.0.
It helps in better audio transmission, and hence, the audio quality is better than most wireless headphones. The headphone weighs around 220g which is pretty decent for human comfort.
You can pair two devices with the headphone and switch between them per your requirements. It has a snug fit that eliminates background noise and has voice assistant support.
You can make calls, and you can use the headphone in wired mode as well. Coming to the construction, the foam cushion is very comfortable, and the overall structure is quite sturdy.
Like
Perfectly suitable for loud and high bass music.
Can operate in dual mode as per demand.
Professional look and ultra-comfort cushion.
Comes with Type-C fast charging option.
Didn't Like
The noise cancellation is not superior.
The charging cable is rather short.
Wrap Up!
If you spend multiple hours with headphones on, you should invest in purchasing premium headphones. You can easily get premium headphones with a budget of around 5000 INR. Instead of running after brand value, you should compare the specifications and features.
We have picked the best headphone under 5000 INR so that you can pick from them per your preference. We have listed the pros and cons so that you can judge the headphones logically.